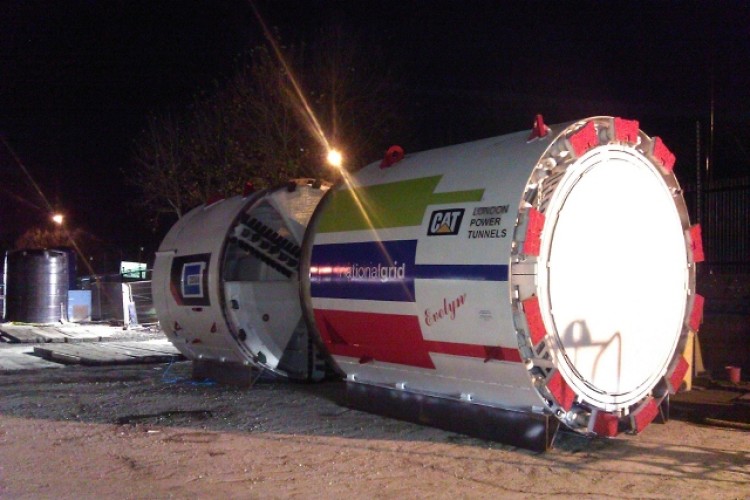 On 15 August tunnel boring machine (TBM) Evelyn broke through into a pre-prepared shaft at Wimbledon, southwest London, completing a 3km-long drive from Wandsworth in just four months. It completes the latest stage in the creation of 32km of tunnels being built to house a new generation of 400kV electricity cables under London.
"This is certainly the safest and the quickest tunnelling contract I've ever worked on," said tunnelling agent Angus Mackenzie. "To date, in over 10.5km of 3m internal diameter (id)  tunnel constructed we have incurred only one minor lost time injury and have increased our productivity levels to being able to maintain a consistent 60-plus metres per day."
One of the biggest technical challenges on the drive was a curve in the tunnel alignment that had a 22.5m radius. "This gave us issues with the pit bottom as the drive shaft was centred on this curve but, using a combination of experience and new ideas, we were able to design around this," said Mr Mackenzie.

Evelyn is now being dismantled and split up into principal component parts to be inspected and refurbished ready for her final drive on this project: 9km from Wandsworth, under the river Thames, to Kensal Green in northwest London. This is the longest drive on the 3m id section of the project and will begin at the end of October. It is scheduled to be completed by the end of 2014.
Evelyn's 'sister' TBM, Cleopatra, is at work on the contract's other 13km tunnel which runs from St John's Wood in northwest London to Hackney in the east. Cleopatra has recently begun her second drive from the Eade Road drive site in Haringey to Hackney.
The contract is due to be complete by 2014, with full energisation of the new cables planned by November 2018.
Got a story? Email news@theconstructionindex.co.uk