Wayne Smith was working on expansion plans for Lavendon, parent company of access hire specialist Nationwide Platforms, when he discovered that the group was a takeover target. Now, after nine months as Nationwide's managing director under new owner Loxam he is still confident that there is room for growth.
Every senior executive needs to have plenty of energy and commitment if they're to make a success of their role. Few, though, are likely to exhibit the same degree of excitement and enthusiasm shown by Nationwide Platforms' new managing director, Wayne Smith.
When asked how he feels about running the UK's leading powered access hire company, he responds rather like a boy who's woken up in a toy shop on Christmas Day. He describes powered access as "really cool stuff" and the industry as "pretty amazing". 
In fact, when Smith took on his new role after the takeover by Loxam he was anxious to find out if he – ostensibly an office-bound executive – would ever get to operate any of the machines that Nationwide supplies. He was delighted to discover that every member of staff at Nationwide Platforms must have an IPAF (International Powered Access Federation) operator's ticket.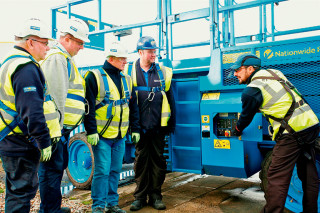 Smith came to Nationwide by way of generator hire specialist Aggreko and materials giant Lafarge so he has a good understanding of the hire industry and construction. But his take on Nationwide's main purpose in life is unexpected: he argues that Nationwide is not actually in the business of plant hire but in the business of health and safety. In other words, the company provides a way of ensuring that people can work at height and return home safely to their family.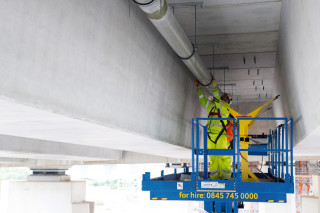 He also believes that the sector as a whole has a 'lot of upside' opportunities to modernise, both in forging new relationships with clients and in developing new products to meet their needs. 
"The market is maturing but there are still opportunities to convert users to employing powered access rather than ladders and scaffolding," he says. 
"But the next step is to move from transactional arrangements to partnerships with developers and manufacturers where we take the guesswork out of working safely at height, providing the most appropriate kit at the right time – and getting it off site," he adds. 
He's speaking to his major clients to try and initiate more collaborative working practices. Balfour Beatty seems to be up for it, and Smith says that he detects the same appetite for partnership schemes among other leading contractors.
Nationwide – through its in-house R&D division, BlueSky Solutions – has long enjoyed a reputation for designing and fabricating its own ancillary equipment, either to enhance health & safety or improve productivity – often both. Innovation remains an important element is keeping ahead of the competition, says Smith, 
The latest BlueSky development, SkyTel, is a materials handling attachment that was developed for the mobile telecoms industry. The SkyTel enables operatives to lift and lower antennas more safely and efficiently from a truck-mounted platform and reduce risk by cutting down the amount of manual handling involved. These specialist attachments add value and differentiate Nationwide from the rest of the market, says Smith.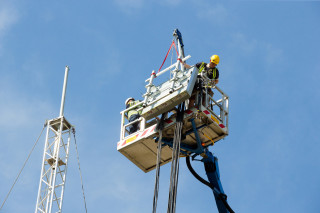 In the months since he joined the business, Nationwide has "had a great year with growth in both the top and bottom line". The main challenge, he says, has been to find how to improve upon the work of his predecessor, Jeremy Fish, who left to become chief executive of Ardent Hire Solutions. Nor, Smith says, has he had to deal with any interference from Loxam in the day-to-day management of the company.
"This is an incredibly good company; it's not a turnaround situation. And we were bought as a profitable business so there have been no job losses. In fact, we're bigger because we're integrating Loxam's UK access hire business [Loxam UK], while Loxam are busy integrating Hune," he reports. Hune is Spain's second-largest hire company and was also acquired by Loxam back in January 2017 [see below]. "The challenge here is how to capitalise on what has already been achieved," he says.
Smith's approach to this is hands-on – "I get out in the field and engage with people" – and pragmatic, increasing investment and cutting down repair times. 
"We're pumping in significant amounts of investment in modern, safe, reliable equipment. We have spent £150m since 2014 and will spend a further £42m this year," he says. "Rental is all about having equipment available so we have streamlined our engineering service so that repairs have improved to the point that availability is up by 8% this year – the equivalent of 500 more units to rent."
The major factor in achieving this is what Smith describes as the company's "extraordinary" engineering experience. "It's like a cult – you never leave. We have 280 engineers and between them they have 1,800 years' experience, so if anything has happened before, they've seen it."
The results have been encouraging: turnover and pre-tax profit both grew last year (to £120.5m and £20.5m respectively) in a market that Smith describes as not exactly buoyant but – dread words – "strong and stable". The future, he admits, is difficult to call.
"Some 60% of the market for access hire is in construction rather than infrastructure, so a new runway at Heathrow and more nuclear development will be good," he says. "But the worry is a potential lack of construction personnel because, if we can't get labour from the EU, it will slow the pace of construction. We're also in a cyclical business, so the question is not if there will be a downturn, but when.
"We aim to mitigate that effect by having a market-leading position and a healthy balance sheet because, when the downturn comes, other companies will go out of business and we can increase market share."

Plans to future-proof the business include recruiting talent from outside the company; a notable recent hire has been sales and marketing director Robin White, formerly head of sales and marketing at logistics company Ryder, who joined in February. Smith sees White's appointment as a good opportunity to revisit the fundamentals with a marketing strategy that is based upon segmentation of the customer base. He summarises the process as: "Understanding who buys from us, what they do and what matters to them. 
"Get this right and we will be more successful." And so will the already high-achieving Wayne Smith. 
Who is Wayne Smith?
Wayne Smith's route to the top of Nationwide Platforms has not been straightforward. He arrived at the firm's Solihull headquarters via the scenic route, by way of Paris, Bejing, Kuala Lumpur and a few US cities including Atlanta, Detroit, New York and Fort Lauderdale.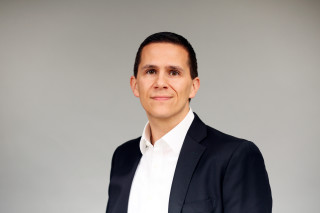 Born and raised in Florida, Smith attended Queens University of Charlotte, a private university in North Carolina, before joining what was then Arthur Andersen Consulting in Fort Lauderdale. 
"I did what a lot of people do when they don't know what you want to do and became a management consultant," he says. "I learned how to hold a clipboard and fix meetings," is how he describes his time with Arthur Andersen (now renamed Accenture).
A move to New York enabled Smith to take up a position with McMaster-Carr Supply Company, a company that distributes and ships industrial products to businesses, and to equip himself with an MBA from Harvard Business School. 
At this point, he changed direction. "I'd been working in service and supply where you never saw the results of your work so I wanted to work in something that was tangible."
That quest took him to Lafarge North America and a succession of roles covering sales, marketing and supply chain management in its cement business before being given the chance to move to Malaysia in 2008. 
Here he headed-up the Kuala Lumpur office of Lafarge Asia: "I was a typical American. I didn't even know where Malaysia was but it was such an illuminating experience and such a rich cultural world," he says. He also met his wife there, taking her to his postings as vice president, strategy & development in Beijing and Paris.
The move into plant hire came in 2015 with a new role as director of business development (power solutions) at international generator hirer Aggreko. Here, Smith was responsible for a business with a US$1.6bn (£1.2bn) turnover across Latin America, Africa, Middle East, Russia/Caspian and Asia. 
However, Smith was with Aggreko for only 10 months before he was recruited by Lavendon – one of the largest equipment rental businesses in the UK – and given the title of group corporate development director along with the task of expanding the company.
"It was my birthday and I was looking at a potential acquisition in Singapore when I was asked to jump a phone call from my chief executive. So, I sat down with a cold beverage to be told we were being taken over," he says. "I was then asked to shift roles and become MD [at Nationwide] and I'm super-delighted." 
Nationwide Platforms' headquarters in Leicester might not be the most exciting location, especially for a globe-trotting executive used to more exotic surroundings. But Smith says it does have one unique advantage for him personally: it is equidistant between his parents' home in Miami and his in-laws in Penang.
Loxam's acquisition trail
In February 2017 Loxam bought Nationwide Platforms and its parent company, Lavendon Group, in a deal estimated to be worth £459m. Paris-based Loxam was Europe's largest equipment rental company even before acquiring Lavendon, having bought the rental businesses from Hertz and Hune, Spain's second-largest rental company. 
The combination of Loxam and Lavendon created the third-largest global player in the aerial rental market with a dedicated fleet of about 45,000 units. Nationwide Platforms is now a division of Loxam and is both the UK market leader in powered access rental and the world's largest IPAF training provider. 
In fact its range of PASMA, IOSH and other health & safety courses makes it one of the world's largest trainers for working at height, says managing director Wayne Smith.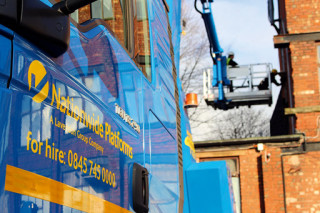 This article was first published in the November 2017 issue of The Construction Index magazine, which you can read for free at epublishing.theconstructionindex.co.uk/magazine/november2017/ 
UK readers can have their own copy of the magazine, in real paper, posted through their letterbox each month by taking out an annual subscription for just £50 a year. See www.theconstructionindex.co.uk/magazine for details.
Got a story? Email news@theconstructionindex.co.uk