One of the biggest headaches for contractors working in a city centre is the difficulty in getting materials and equipment delivered to site at the right time and without bringing the surrounding area to a standstill.
Of course, many site deliveries are scheduled to take place overnight and at weekends when the roads are relatively empty. But few city-centre sites have the luxury of on-site storage space and so there are inevitable vehicle movements at all times of the day.
Such is the challenge for contractors on projects like Crossrail, the Olympic Park and big high-rise schemes like the Shard, that over the past decade or so a new breed of logistics specialists has grown up, dedicated to keeping sites building at optimum speed.
The secret weapon in these companies' arsenals is the 'consolidation centre', a strategically-located storage and distribution facility where materials can be stored as a jumping-off point for just-in-time delivery.
Conventional site deliveries, direct from a supplier, are often uncoordinated, with many separate deliveries a day inevitably resulting in a build-up of traffic both on site and on the approaches to the site.
This is inefficient. Vehicle utilisation is poor, with trucks often travelling to site with a part-load and returning empty, and the resulting road congestion delays other road users and leads to high fuel consumption and high levels of vehicle emissions. It's costly and harmful to the environment.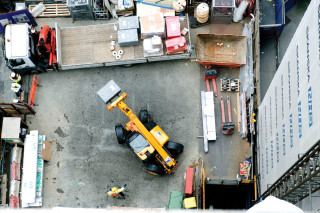 The advantages of reducing construction traffic are obvious: lower fuel costs, less congestion, less noise, safer roads and less pollution.
WRAP, the Waste & Resource Action Programme, estimates that consolidation can reduce vehicle traffic to and from sites by up to 70% during the busiest phase of a project - usually the fit-out stage, when many suppliers are competing for limited space.
There are times when consolidation offers few benefits – for example, there's no advantage in using a consolidation centre for deliveries of full-vehicle loads, says WRAP – but the planning and scheduling of such deliveries by a logistics specialist will still bring advantages.
One of the leading proponents of the consolidation idea is logistics and security specialist Wilson James, which claims to be the first company in the UK to set up a construction consolidation centre to serve multiple clients.
Managing director Peter Jacobs says that the use of consolidation centres for construction logistics really started to take off with the "Rethinking Construction" movement almost 20 years ago.
"I was using consolidation centres with [property developer] Stanhope well over 10 years ago," says Jacobs. Stanhope's renowned construction director, Peter Rogers, was a leading light in the drive to improve procurement efficiency.
Jacobs only joined Wilson James a couple of years ago but the company was already well-known for its logistics capability. Wilson James took over and now runs one of the first dedicated construction logistics centres, set up by Mace in 2001 to service ongoing work at Heathrow Terminals 1-4. Wilson James ran the facility throughout the construction of Terminal 5.
"We still have our Heathrow consolidation centre," says Jacobs, who adds that Wilson James is the airport's official "logistics integrator" (the Tier 1 contractors are described as "delivery integrators").
But Wilson James' most significant innovation is the London Construction Consolidation Centre (LCCC), the first such facility in the UK to service multiple clients, according to the company. Wilson James, in partnership with Stanhope, Transport for London and Bovis Lend Lease, originally set this up as a pilot scheme, based in Bermondsey.
The LCCC has since relocated to Silvertown, near London City Airport, putting it only five miles from the City of London and six miles from the West End. It's outside the Congestion Zone and the London Lorry Control Zone, which means that deliveries to the LCCC can be made at any time of the day or night.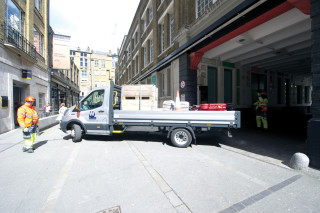 It's also handy for the M25, M1, A13 and A406 trunk routes.
"Silvertown serves all types of clients and contractors," says Jacobs.
One of the benefits of consolidating materials deliveries on the city's doorstep is that mixed loads can be carried on each lorry, which calls at the appropriate site according to a pre-planned route.
"Imagine a driver who's unfamiliar with the area driving into London just to deliver two pallets to a certain site. The time, effort and waste is just not worth it," says Jacobs.
And there's no denying that rationalisation of construction logistics is desperately needed: "In London, at peak hours, about 50% of HGV movements are construction related," he adds.
"Normally, people on site get more stuff delivered than they actually need because they err on the safe side," says Jacobs. But this is a luxury few city centre sites can afford, which is where the LCCC pays dividends:
"Our CC is only 15 minutes or so away from the customer so they can call off only what they need for that day," explains Jacobs. Special call-offs can be accommodated, and a small van is on hand to provide small one-off deliveries.
Wilson James' LCCC differs from most consolidation centres in that it is not dedicated to a specific project or client. It serves a number of sites across the London area, its vehicles carrying mixed loads to different customers.
"Some specialist contractors use our services even if the main contractor on their project doesn't," says Jacobs. "But sometimes, because the industry is so fragmented, you find that some of the main beneficiaries aren't the ones paying for it," he adds.
It is usually the client or the main contractor on a project that pays for Wilson James' consolidation service, he explains. Everybody feels the benefit to some extent – the main contractor through improved efficiency, the client through more reliable programme delivery and the wider community through the reductions in congestion, pollution and noise.

Specialist subcontractors and hauliers also benefit – often financially. They will have built the cost of materials delivery into their tender prices but might end up paying little or nothing.
There's a clear imbalance here, says Jacobs: "The challenge is to get more transparency into the supply chain." It is even difficult sometimes to convince a contractor of the benefits of consolidating materials deliveries:
"When you get your big contractors sitting down with the QS [quantity surveyor] you sometimes have a job persuading them of the advantages. Their QS can see the cost but not the value," says Jacobs.
For Jacobs, the benefits of what might be termed 'smart' logistics are obvious: it's what we already expect in many other areas of everyday life.
"Think of Amazon. Amazon delivers thousands of items every day. And Amazon tells you who your driver is and when he'll be arriving with your goods. So why can't we?
"What we need is an Uber for construction logistics. Somebody will soon produce it. We already have our own construction delivery management system, Fulcrum, for online booking capability," says Jacobs.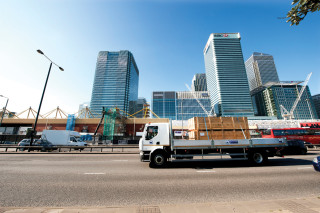 The LCCC
Located just outside the City, in London's Docklands, the London Construction Consolidation Centre is a specialist distribution facility providing just-in-time deliveries of construction materials to projects.
Materials and plant are delivered to the 12,000m2 centre in bulk and stored before being called off to site in the quantities needed for the next day.
The LCCC supports between three and six projects. These have included Skanska's Barts Hospital phase II and the Quadrant III project run by Sir Robert McAlpine.
Wilson James says that the LCCC has achieved 97% of goods delivered right first time – compared with the industry average of just 30%.
It also says that construction freight journeys are reduced by up to 68% and CO2 emissions reduced by up to 70% as a result.
Contractors who use the LCCC have calculated an increase in site productivity of up to 47%, says Wilson James.
Peter Jacobs
Peter Jacobs joined Wilson James in 2014 as a non-executive director and was appointed managing director in September last year.
He's quite a catch for the company, bringing with him a CV boasting senior roles with leading building contractors and a track record in delivering ambitious projects, especially in and around London.
Jacobs spent 24 years with Bovis Lend Lease where he was a director for 10 years and headed up the team behind the London 2012 Athletes' Village.
He subsequently joined Morgan Sindall as managing director of the firm's London and Airports division and served as president of the Chartered Institute of Building between June 2012 and June 2014.
Jacobs believes that the role of logistics specialists like Wilson James will become increasingly crucial to the successful delivery of complex construction projects.
"The increasing impact of BIM and off-site fabrication in the industry will provide an opportunity to increase productivity on site, but only if there is professional and disciplined logistical support," he says.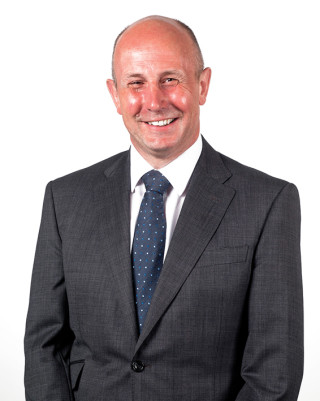 FM Conway's DIY solution
In the road building and repair sector, materials deliveries are also crucial and the whole operation is potentially disruptive to traffic and the wider community.
Contractor FM Conway decided many years ago that the best way to organise its plant and materials logistics was to take the whole thing in-house.
"The idea really got started about 20 years ago when there was the first big push towards materials recycling," explains Nick Burman, FM Conway's director of surfacing.
The company's core business has always been road maintenance in the Greater London area and in 2000, to service this operation, FM Conway set up its own materials reprocessing centre just outside the M25 in Dartford, Kent.
Today, this facility recycles up to 95% of all the asphalt and concrete arisings generated by FM Conway's London road works.
The Dartford yard is a vital part of what FM Conway calls its "self-delivery" model. It operates a fleet of over 200 trucks that deliver all the materials it needs as well as removing waste for recycling or disposal.
"We have three manufacturing bases, at Heathrow, Dartford and Erith and also six operating depots which gives us the ability to distribute materials efficiently," says Burman. "We're not like the aggregates firms – we don't own any quarries – and unlike other contractors, we're not dependent on either manufacturers or logistics firms," he adds.
"The key differentiator is control: we control our own manufacture, our own labour and our own transport. It makes planning much more efficient; we can match production to meet just-in-time delivery and reduce storage on site.
"It's also more cost-efficient for the client because they have a much shorter supply chain," he adds.
Got a story? Email news@theconstructionindex.co.uk