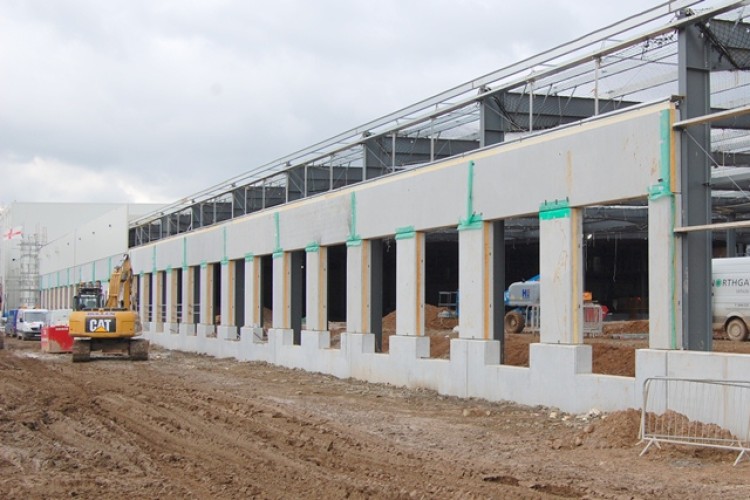 A 57,000m2 distribution depot is under construction in Avonmouth for the Asda supermarket chain.
The £70m development provides a new chilled and frozen food facility of 45,000m2 alongside a 12,000m2 service centre to look after 123 stores, replacing a previous depot at Portbury.
Construction of temperature-controlled distribution centres is fraught with issues. The areas around detailing, in particular, need special attention to prevent any of the products inside the building from spoiling.
The specified solution here, just as it was on a very similar Asda job completed in Rochdale last year, is the Thermomass insulated concrete sandwich wall system from Construction Systems Marketing. In Avonmouth, as in Rochdale, the precast contractor is Concast.
According to Construction Systems Marketing, the Thermomass system has demonstrated its ability to keep buildings like this at the right temperature. It has been used on more than 80 million square metres of wall worldwide, including numerous temperature-controlled manufacturing and distribution facilities.
The precast contractor is supplied with the insulation and the connectors, along with full technical support including iso-thermal data and dew-point calculations. It then installs the walls using the large prefabricated concrete sandwich panels, which provide the structure as well as the cladding.

The Thermomass connectors are designed to provide a stronger-than-steel connection between the internal and external wythes of concrete. Moreover, they do this in a way that provides a thermal break from the outside to the inside. This means that they eliminate three problems:
thermal heat loss through thermal bridges;
interstitial condensation that forms on the cold bridges within the structure, separating warm, moist air from cold areas;
surface condensation where the transferred warm or cold bridges form damp regions on the wall and attract dust.
As well as having low U-values, the thermal mass of the concrete helps to even out the peaks and troughs of temperature gradients during a day, which reduces heating and ventilating costs, it is claimed.
The panels are also robust enough to put up with the sort of treatment on site that a metal sandwich panel generally cannot cope with. They are also harder to cut through or damage, should any miscreant be so inclined.
This same robust nature also improves security, making it almost impossible for thieves to break through the external fabric and either steal goods or cause damage inside.
Fire resistance is also reckoned to be better than on the more common tin sheds, with BS EN four-hour fire resistance certification.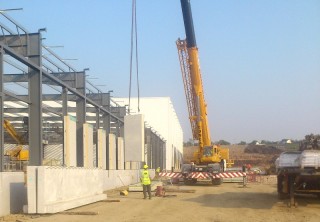 Got a story? Email news@theconstructionindex.co.uk