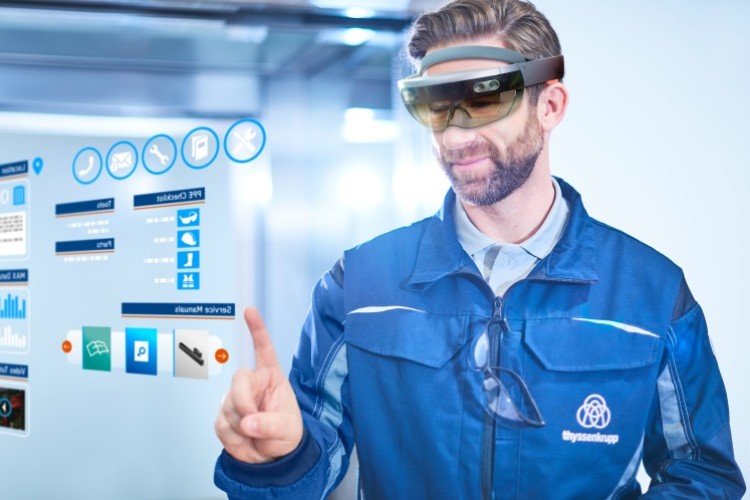 HoloLens is intended to support technicians both prior to arrival and on site, significantly reducing service intervention times. The HoloLens system follows the launch of Max, a predictive maintenance solution that is already connected with thousands of elevators.
The Microsoft HoloLens technology is used in a "mixed reality" device. Service technicians will be able to visualise and identify problems with elevators ahead of a job, and have remote, hands-free access to technical and expert information when on site. This will result significant savings in time and stress, says Thyssenkrupp. Initial field trials have already shown that a service maintenance intervention can be done up to four times faster than before by using the device.
Scott Erickson, general manager for Microsoft HoloLens, said: "As the first fully self-contained holographic computer running Windows 10, Microsoft HoloLens has been helping companies and industries innovate in entirely new ways. By utilizing the out-of-the-box Skype experience without any additional development required, Thyssenkrupp's 24,000 service engineers can now do their jobs safer and more efficiently. Triaging service requests ahead of the visit and getting hands-free remote holographic guidance when on site has reduced the average length of Thyssenkrupp's service calls by up to 4x."

Andreas Schierenbeck, CEO of Thyssenkrupp Elevator said: "With elevators transporting over one billion people each day, the service industry has a critical role to play in keeping cities moving. We remain focused on leading the transformation in this industry; introducing the latest technologies, processes and training to enable technicians to do a better job with less stress and more fun.
"Our goal is to dramatically increase efficiency, raise elevator uptimes and speed up service interventions to ensure mobility equipment is always running as it should, providing each passenger with the safest and most comfortable travel experience possible."
Got a story? Email news@theconstructionindex.co.uk