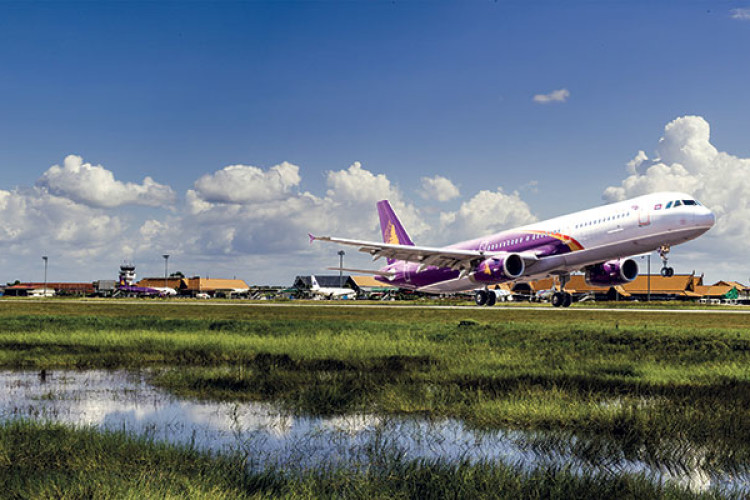 The projects have raised each airport's capacity to five million passengers per year.
Vinci Airports began operating in Cambodia 1995. It works under a public-private partnership with the government of Cambodia and the contract has adapted over the past 20 years to take account of changes in the economy and the international business situation.
The company has been managing Phnom Penh airport since 1995 and Siem Reap - which serves visitors to the Angkor temples - since 2001. It also manages Sihanoukville, which serves both tourism and industrial activity, as the city has the region's only deep-water port.

Between 2004 and 2008, tourism grew exponentially. In 2004, the Phnom Penh airport served more than one million passengers for the first time and in 2008 it set a record with 1.7 million passengers. Air traffic keeps pace with Cambodia's continuing growth, increasing by a factor of 10 between 1995 and 2015, from 600,000 to 6.5 million passengers. To prepare for future traffic flows, VINCI Airports took the initiative in 2011 of making substantial investments – some US$100m - to double the capacity of the Phnom Penh and Siem Reap airports.
The airport expansion contracts covering design-build passenger terminal expansion and renovation works in occupied premises were signed in November 2013. Vinci Airports brought in Vinci Construction Grands Projets for the expansion project. Vinci Construction Grands Projets recruited workers locally, including people unused to construction work. It set up a mobile site school, Skill Up, to transmit best practices and an understanding of the techniques used. Up to 1,300 people worked on the Phnom Penh project and up to 894 on the Siem Reap project. The airports remained in operation throughout the work.
The architecture Siem Reap airport, near the Angkor temples, takes inspiration from Cambodian tradition. The airport's decorative elements were made by artists from Artisans d'Angkor, a social enterprise managed by Vinci Airports in partnership with the state. It was set up to foster the development of traditional Khmer crafts. The organisation currently employs 1,200 people, including 800 craftspeople, across 48 production sites.
Got a story? Email news@theconstructionindex.co.uk