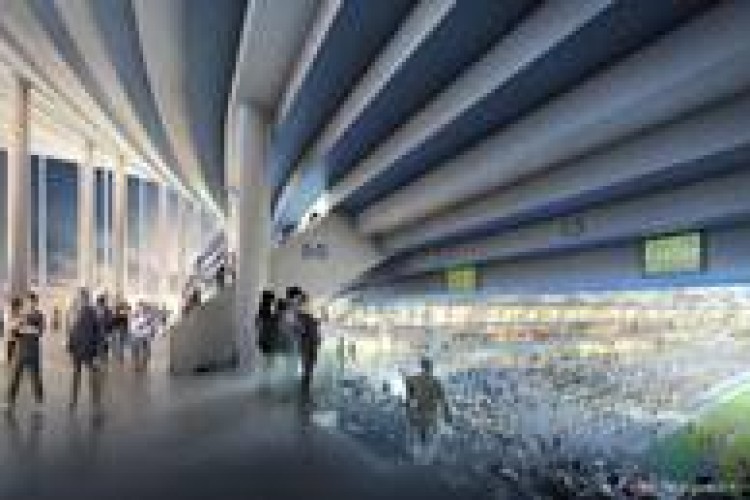 It was signed by mayor Alain Juppé and Vinci chairman-CEO Xavier Huillard in the presence of Fayat chairman Clément Fayat. The Stade Bordeaux Atlantique consortium bring stogether Vinci Concessions and the Fayat group.
The contract, spanning 30 years from the date of commissioning of the facility, covers design, financing, construction, operation and maintenance of the multi-functional new Bordeaux stadium, with a capacity of 40,000 places for UEFA Euro 2016.
In parallel, the municipality and the FC Girondins de Bordeaux football club signed an agreement whereby the Municipality will make the stadium available to the club.
The Vinci Concessions-Fayat consortium, named preferred bidder in July this year, has completed financing of the contract, which represents a total investment of €219m. The financing package consists of long-term debt of €114m, without recourse to the shareholders, of a maximum maturity of 32 years, and an equity injection of €10m, shared equally between the two shareholders. It is supplemented by a total subsidy of €75m.

Vinci and Fayat have commissioned Herzog & de Meuron, which designed the Munich Allianz Arena Stadium and the Beijing Olympic Stadium. The project, located in the Bordeaux Lac neighbourhood, will meet UEFA criteria with a view to hosting Euro 2016 games. It has an unusual, almost square, shape and is designed to combine sober classicism and transparency, with tall columns holding the "bowl" of the grandstands.
Construction will be carried out by a consortium consisting of Vinci Construction France, consortium leader, through its subsidiaries GTM Bâtiment Aquitaine-Limousin and Faure Silva, and the Fayat group, through its companies SEG-Fayat, Razel et Castel & Fromaget. Upkeep and maintenance of the new stadium will be carried out by Vinci Facilities.
Stade Bordeaux Atlantique, a joint subsidiary of Vinci Concessions and Fayat SA, will handle operation of the multi-functional facility in partnership with FC Girondins de Bordeaux. It will cater for sporting, cultural, musical and corporate events. The operating company will be paid in the form of an annual rental from the municipality and also through the proceeds of activities from resident club matches. 
Got a story? Email news@theconstructionindex.co.uk