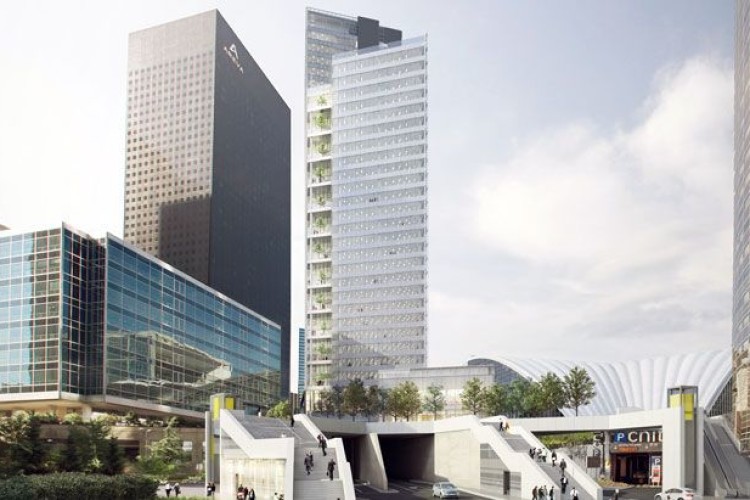 The 140m-tall Trinity tower will be constructed for client Unibail-Rodamco along the eastern side of the CNIT building in the heart of La Défense. It will stand over the Avenue de la Division Leclerc expressway and the scheme will also require underpinning of the CNIT building and the installation of more than 1,000 micro-piles and piles.
The project, which will get under way early next year and is scheduled for completion in the second half of 2018, will be carried out by three Vinci Construction France subsidiaries, Bateg, GTM Bâtiment and Sogea TPI. Vinci Energies will handle a number of technical work packages.
The Trinity tower is designed by Paris-based architecture firm Crochon Brullmann + Associés and will provide 52,000m² of floor area over 32 storeys, including 3,000m² of new public and service areas.
It will be made up of two offset blades and will have balconies and gardens on every level on its eastern and western facades to channel a maximum amount of fresh air into the building. Rather than being 'hidden' inside, the lifts will be located on the outside of the Trinity building to allow for a better lighting.  The tower also aims for the highest environmental certifications: HQE Passeport Bâtiment Durable Exceptional Level and BREEAM Excellent.

The main challenge will be build it within the densely populated environment. The high-rise will be built over the Avenue de la Division Leclerc expressway, which has seven traffic lanes that are to remain open throughout the construction work. La Défense services (buses, fire brigade, hotel supply, etc.) will also continue to operate normally.
With its fire-resistant concrete structure, the base on which the high-rise building will be built will accommodate an esplanade with an area of more than 3,000m² that will create new pedestrian connections.
"The Trinity tower will be built over the expressway, setting an example in creating additional land in the run-up to the Grand Paris programme, in which the city will rebuild above itself," said Hugues Fourmentraux, chief executive officer of Vinci Construction France. "This ambitious urban high-rise building project is made possible by Vinci Construction France's ability to pool its civil engineering and building expertise and capabilities."
Trinity is due to be completed in 33 months – 16 months for the esplanade and 17 months for the building.
Got a story? Email news@theconstructionindex.co.uk