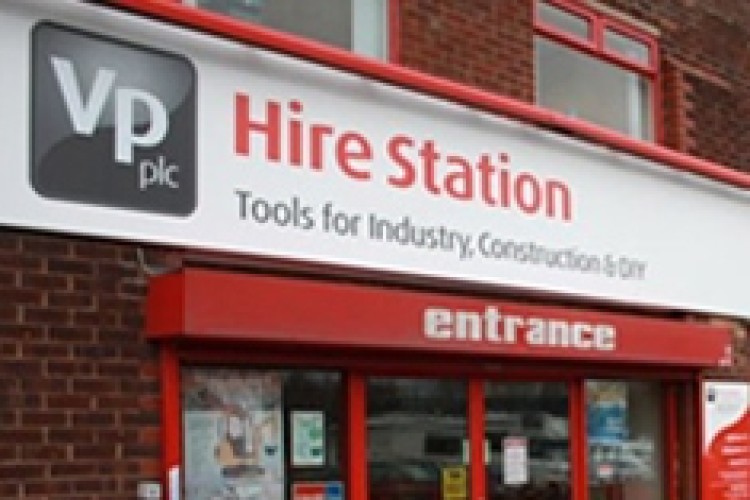 Despite falling oil prices impacting on parts of the business, Vp saw its pre-tax profits grow 5% and revenues 4% in the first half.
Vp's interim results for the six months ended 30th September 2015 show profit befoire tax reaching £16.3m (2014: £15.5m) on revenues of £105.1m (2014: £101.3m)
The star performer among Vp's various divisions was Hire Station, which saw its first-half operating profits rise 27% to £6.1m (2014: £4.8m) on revenues up 9% to £39.2m (2014: £36.1m).  All three parts of the business – Tools, ESS Safeforce and MEP – contributed to this result.
With the new Network Rail CP5 programme gaining momentum, Torrent Trackside saw first-half revenues increase by 21% to £15.7m (2014: £13.0m) and profits increase to £1.7m (2014: £1.3m). The acquisition of the trackside plant and equipment rental business from Balfour Beatty Rail in July 2014 has now been fully integrated, the company said.
House-building activity helped grow revenues at the telehandler hire business UK Forks by 7% to £9.8m (2014: £9.1m). Profits were up 25% to £2.9m (2014: £2.3m).


Groundforce benefited from inner city basement propping schemes as well as house-building to deliver operating profits 12% up at £5.6m (2014: £5.0m) on revenues up 9% to £24.5m (2014: £22.6m).
With depressed oil process, Airpac Bukom's exposure to the oil and gas sector meant revenues were down 25% at £8.5m (2014: £11.2m) but it remained profitable, making £1.0m (2014: £1.7m).
Similarly, TPA, which serves the transmission sector, saw demand drop. TPA revenues fell back by 21% to £7.4m (2014: £9.3m) and profits more than halved to £0.9m (2014: £2.0m).
Vp chairman Jeremy Pilkington said: "This has been another year of solid progress for the Group, achieved against a more subdued economic background.  Revenues, profits, earnings per share, return on capital and dividend all moved ahead.  Once again the group has demonstrated its strength through diversity in the quality of these results."
Got a story? Email news@theconstructionindex.co.uk