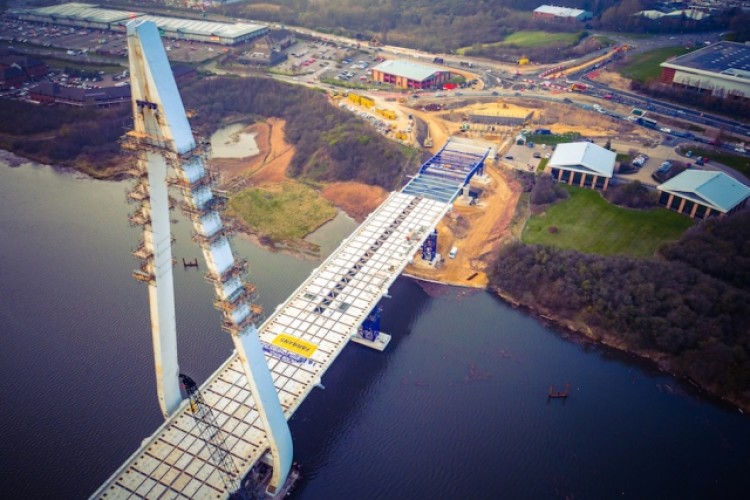 The operation to manoeuvre the 300-metre deck from the south side of the River Wear to the north side was completed at about 5.10pm on Tuesday 28th March.
It took 20 hours to slide the 4,750-tonne concrete and steel structure into its final position over the River Wear between Pallion to the south and Castletown to the north.
The project to build the New Wear Crossing began in May 2015. Farrans Construction and Victor Buck Steel Construction formed a partnership to create FVB Joint Venture to build the bridge on behalf of Sunderland City Council.
Stephen McCaffrey, project director for FVB Joint Venture, said: "The bridge deck launch went very well. It was a substantial structure to move across the river, so it was a very slow and steady operation. The positioning of the deck throughout was crucial as it had to be navigated through the middle of the pylon and then onto each of the temporary supports built in the river to support it.
"We had a team of people guiding it across and scrutinising its progress, as it was planned to the millimetre, but it went as expected, so we are very happy."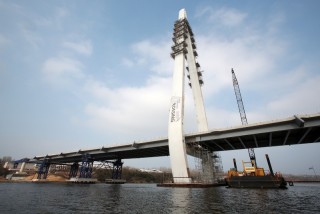 The temporary blue steel nose will be removed from the deck over the coming weeks and the remaining 40-metre section of bridge deck will be built in-situ on the north side during the summer months.
Scaffolding attached to the top of the pylon will enable the cable stays to be fitted, which will be attached to the deck and gradually stressed to take the weight of the bridge later this year. After that, the blue steel temporary towers supporting the deck will be removed and the final touches, such as lighting, road markings and safety features, will be added.
Buro Happold Engineering technical director Simon Fryer, who led the team that designed the bridge deck, said he was delighted to see the deck finally in place. "It's been three years since we started working on the project, so it's amazing to see our designs on paper come to life across the River Wear," he said. "It's going to be an impressive structure – we are very proud to be involved."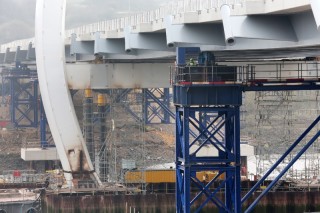 Got a story? Email news@theconstructionindex.co.uk