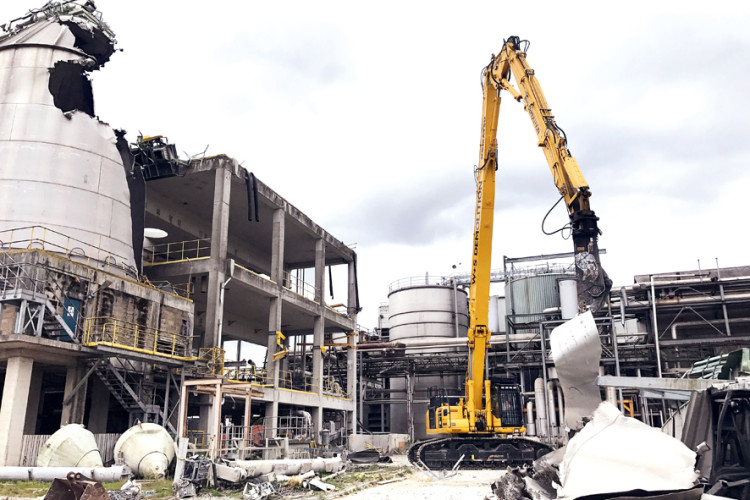 In February 2015, workers at Aylesford Newsprint near Maidstone in Kent, were told that the company had gone into administration. Just a month earlier, the 300-strong workforce had won a 2.4% pay rise; now most of them were out of a job. Only 65 were kept on, temporarily, to assist with the decommissioning.
Their work is now done and the decommissioning has moved on to the demolition phase. Contractor W&S Recycling of Poole, Dorset, was appointed by the official receiver, KPMG, to clear the 106-acre site to slab level ready for redevelopment for housing and light industrial use.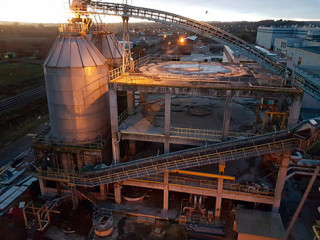 W&S purchased the sole rights for the disposal and sale of all the processing and site equipment plus all other site materials including machinery spares, maintenance equipment, office furniture and equipment, and any additional material arising from the project.
A great deal of scrap steel – not only structural steel sections from the building, but also large quantities of high-value stainless steel from the existing process equipment – was present on site and W&S needed suitable equipment to recover and process it.
Tony Doyle, W&S's project manager for the Aylesford Newsprint demolition project explains the scope of the contract: "At 106 acres, this site is a big undertaking for us and not something to be taken lightly. There are three main buildings: PM14, which housed the main print machine; PM13 which housed the old print machine, and the FPP plant which recycled old newsprint."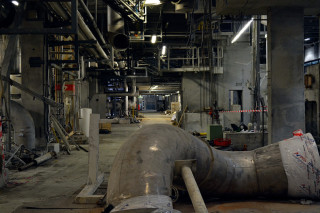 The total volume of concrete to be processed was a complete unknown adds Doyle: "None of the site was documented until the construction of PM14, so everything prior to that is a complete unknown in terms of plans and documentation. There are pits, wells and dozens of outbuildings all over the site – and they've all got to go."
W&S started work on site in September 2016, pulling out easily-accessed recyclables and assessing the site to establish the equipment required to complete the demolition job.
As its name suggests, W&S is primarily a waste recycling business but to carry out its task at Aylesford Newsprint, the company invested heavily in specialised demolition equipment to maximise the project value by dismantling and recycling as much of the vast quantities of materials as possible on site. All ferrous and non-ferrous metals are sold to UK merchants and concrete is graded on site to Type 1 and sold for road and allied construction use.
The principal method employed is to dismantle the buildings using excavator-mounted breakers, shears and grabs, which are also used to reduce the material to manageable proportions and sort it in-situ.
The contract to supply the numerous specialist demolition tools was won by London-based importer Inmalo following trials with competitor products. "We tested equipment such as concrete crackers, grabs and scrap shears which were supplied for testing by different manufacturers and decided, based on performance and power, to award the contract to Inmalo," comments W&S commercial director Tony Knowles. 
With the exception of a couple of Montabert hydraulic breakers, all the attachments supplied to W&S Recycling are from Italian manufacturer Mantovanibene (MBI) for whom Inmalo is the UK distributor.
Steel and other metals are processed using four MBI SH "Eagle" hydraulic shears, the largest of which is the 5-tonne SH410R mounted on a Komatsu PC490 50-tonne excavator. This attachment is used for slicing through the heavier steel sections, handling steel up to 25mm thick.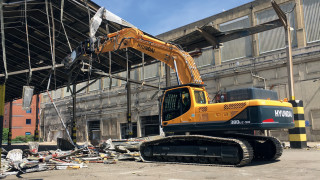 Although a powerful attachment, the SH410R is not the largest MBI scrap shear – and by some margin. The range extends from the 380kg SH25R for use on compact excavators up to the 21.5-tonne SH2000R which requires an excavator of at least 170 tonnes to operate it.
The three other SH Eagle shears working at Aylesford comprise two 3.3-tonne SH310Rs, both used in conjunction with a Hyundai 380LC excavator, and an SH180R (2.1 tonnes) which is used on the Komatsu PC490 with a 28m high-reach boom.
For demolishing and processing concrete on site, W&S is using three MBI CR concrete crackers and an RP40IT rotating pulveriser.
The two larger concrete crackers – both CR26R models weighing 2.9 tonnes – are mounted on Hyundai 380LC excavators. The slightly smaller CR20R cracker is used together with a Kocurek 21m high-reach boom on the Hyundai 380LC for high-level dismantling (below).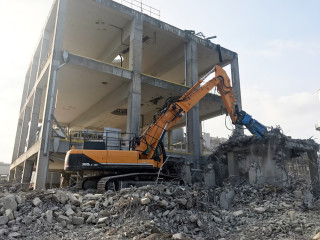 The Hyundai 380LC machine is also used in conjunction with MBI's RP40IT rotating pulveriser to carry out secondary breaking at ground level. This attachment reduces the concrete to small fragments and dust, helping to separate the crushed concrete from the steel reinforcement.

For materials sorting, W&C uses the SGR450 selector grab mounted on a Kobelco SK75R excavator. The two Montabert SC36 breakers, each weighing 360kg, are also used with the SK75R.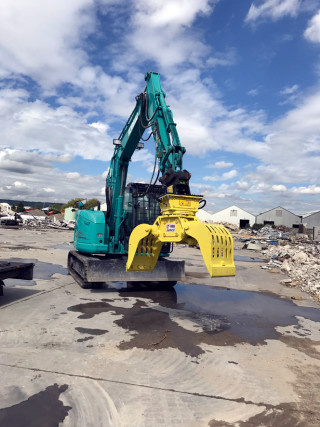 In total, W&S has invested over £5m on demolition equipment for this project. Until now, the company has confined itself to waste processing and recycling. Now, it is equipped to carry out turnkey demolition and recycling contracts, says Knowles. 
The site is scheduled to be reduced to ground level by September 2018, so a full two years is being spent breaking up and bringing to ground the vast number of structures and materials on site. "This is the perfect project to demonstrate the range of attachments we have for demolishing steel and concrete structures," says Inmalo sales manager Charles Polack. 
W&S Recycling's heavyweight combo
Among the machines specially bought by W&S for the Aylesford demolition project is a new Komatsu PC490HRD-10 tracked excavator. The machine was specified with the optional hydraulic adjustable undercarriage, three boom configurations (standard dig boom, medium-reach 17.5m boom and high-reach demolition 28m boom) as well as a host of extras including dust suppression and cameras for maximum versatility. 
The PC490HRD-10 started work last summer, rigged with the short boom and 5-tonne MBI SH410R shear to take down all the low-level buildings. "The plan is to get rid of all the smaller structures first. That'll provide more working room to get the machines in to pull down the larger buildings later in the project. The five-tonne shear that's been fitted so far has been great and hasn't come up against anything it can't handle," comments W&S project manager Tony Doyle.
The excavator's hydraulic undercarriage has proved especially valuable on this project says machine operator Derren Monk: "The stability is great. You never have it rocking back and forth – it's just rock solid. "It proves it was the right decision to spec that undercarriage".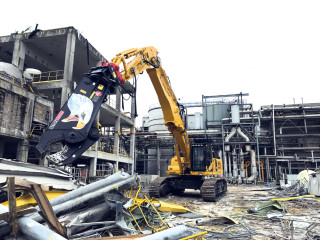 Inmalo inventory
MBI attachments currently on site:
1 x MBI SH410R shear (4,900kg) on a Komatsu PC490 
2 x MBI SH310R shears (3,300kg) on Hyundai 380LC
1 x MBI SH180R Shear (2,100kg) on Komatsu PC490 28m high-reach boom
2 x MBI CR26R crackers (2,900kg) on Hyundai 380LC
1 x MBI CR20R cracker (2,100kg) on Hyundai 380LC 21m high-reach boom
1 x MBI RP40IT rotating pulveriser (4,200kg) on Hyundai 380LC
1 x MBI SGR1900 selector grab (2,300kg) on Hyundai 380LC
1 x SGR450 selector grab (620kg) on Kobelco SK75R
2 x Montabert SC36 breaker (360kg) on Kobelco SK75R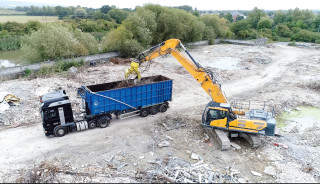 This article was first published in the November 2017 issue of The Construction Index magazine, which you can read for free at http://epublishing.theconstructionindex.co.uk/magazine/november2017/
UK readers can have their own copy of the magazine, in real paper, posted through their letterbox each month by taking out an annual subscription for just £50 a year. See www.theconstructionindex.co.uk/magazine for details.
Got a story? Email news@theconstructionindex.co.uk