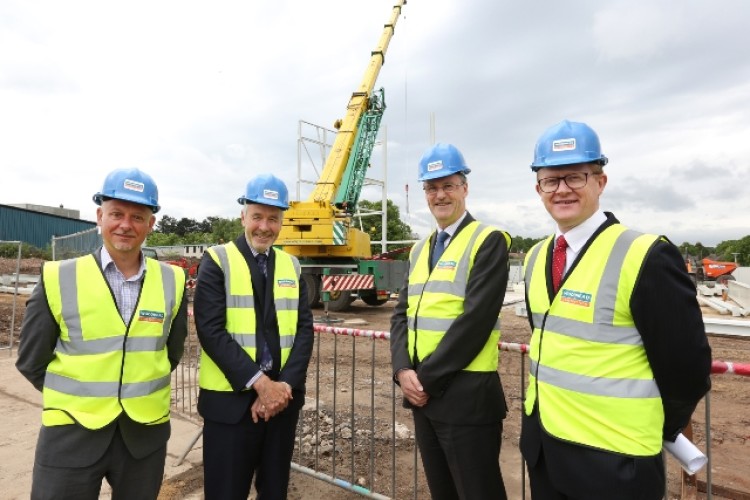 The Research Acceleration & Demonstration (RAD) building is being built by Woodhead Construction at a cost of £5.4m.
Built on the former Dairy Crest site on Triumph Road, the RAD building will be one of the first research centres to combine the sustainability standards of BREEAM (Building Research Establishment Environmental Assessment Method) with the principles of the German Passivhaus system.
The 2500m2 centre will provide facilities for research and testing as part of the Energy Research Accelerator (ERA) initiative. ERA is an Innovate UK funded initiative involving six Midlands universities and the British Geological Survey (BGS).
The RAD building will include laboratory space for research ranging from harvesting and storing wind energy, to the development of new materials for hydrogen storage.

ERA chief executive Gordon Waddington said: "The new RAD building will act as a focal point for much of the cutting edge research that will be taking place at the University of Nottingham in the Energy Research Accelerator. It will house advanced test equipment, and will also be home to many of the UK's leading academics, who will work together with business to accelerate the introduction of new technologies in the energy sector."
Woodhead managing director David Woodhead said: "We're delighted to be working with the University of Nottingham once again. This campus represents the future, with amazing structures greeting you at every turn. The design of the RAD is striking, but arguably its most innovative features, the Passivhaus and BREEAM standards, won't actually be seen, as they will be built into the very fabric of the building."
The architect for the RAD building is Lewis & Hickey, with BWB acting as structural & civil engineers and CPW as services engineer. Aecom is project managers and Turner & Townsend is the cost manager.
Got a story? Email news@theconstructionindex.co.uk