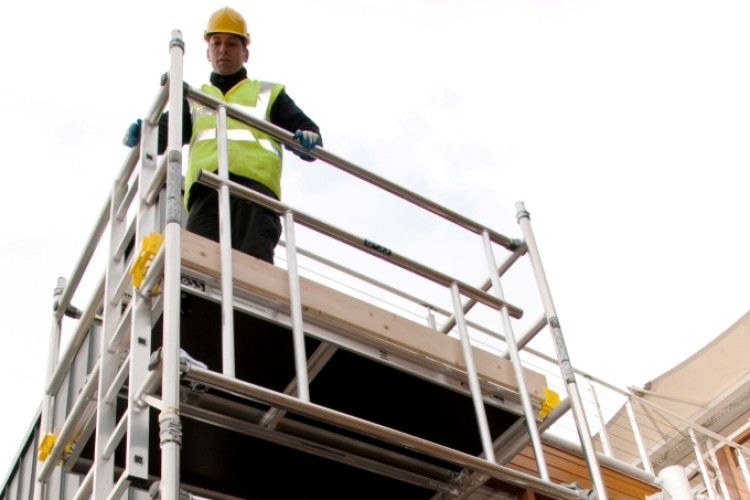 The BoSS Cam-Lock Advance Guardrail system from leading access equipment specialist Youngman makes assembly and dismantling of its BoSS Evolution, Ladderspan and Clima towers even quicker and safer than before. 
The Advance Guardrail (AGR) concept is one of two HSE-approved, and PASMA endorsed, methods of ensuring collective fall-protection (guard railing) is in place for users of scaffold towers during the assembly and dismantling process. 
The most commonly used method is known as 3T (through-the-trap). This involves the installer positioning himself through the trapdoor platform in order to attach guardrail braces before venturing onto the platform itself. 

The second method uses AGR's (advance guardrails) which consists of speciallydesigned guardrail frames which are installed from below, in "advance" of the platform being positioned. This method ensures it is safe for the user to venture onto the platform as soon as it is in place. During dismantling the platforms are removed from below before the AGR (advance guardrail) is removed. This way the user is protected by full guard railing at all times during assembly, use and dismantling. 
The new Youngman Cam-Lock AGR, which is available in both 1.8m and 2.5m versions, comprises a lightweight one-piece alloy guardrail assembly fitted with special patent-pending cam-operated claws which lock the frame securely into place and provide great strength and rigidity within the tower structure. 
By replacing the majority of horizontal and diagonal braces the Boss Cam-Lock AGR reduces the number of components needed to build a tower. This not only speeds up assembly times but also reduces the risk of loss of, or damage to, components on site. 
Got a story? Email news@theconstructionindex.co.uk