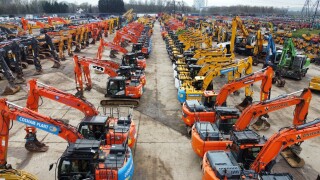 In the last eight weeks, Euro Auctions has conducted four UK sales, two at its flagship site in Leeds, one in Dromore (Northern Ireland) and one off-site sale in Hampshire for Contractors Plant Hire.
"In all, over 17,000 pieces of heavy plant and construction machinery went under the hammer with a sale total of £134m, with an inventory that included over 2,500 excavators," says Euro Auctions sales manager Chris Osborne.
The most recent sale was in Leeds on 26th- 29th April, where 692 vendors from 26 countries consigned 6,743 lots to this auction. It achieved a hammer total of £60.16m. Floor bidders on the day contributed £17.13m to the sale with £42.997m coming from online and £1.4m from a timed sale.
Registered bidders from 99 different countries took part in this sale, with the top buying countries being: UK, Republic of Ireland, Belgium, Netherlands, Poland, Spain and Romania. With the dollar strong against the pound, buyers from North America are still around at these sales and they are taking multiple machines off the ramp with a single bid, Chris Osborne reports.
With a complex world market for used construction plant and machinery, the dynamics of a sale like Leeds never ceases to surprise with the Leeds sale being hailed as the window to the global market, says Chris Osborne.
"The used plant and machinery market has been very buoyant during the last six months and whilst the Euro Auctions team continue to attract consignors to each sale, it is widely considered that the six-weekly sale at Leeds is the number one auction in Europe. Right through Covid we have continued to maintain stocks of machines for sale, and once one sale ends, the Leeds yard is filling up for the next sale."
Watching sales patterns can be revealing. "General contracting is very buoyant right now and we are seeing a lot of good mini diggers, 8-, 10- and 20-tonne excavators on the market, in addition to lighter site machines which are in abundance," Osborne says. "OEMs are delivering new machines and as such, buyers are now rationalising fleets, downsizing and normalising their stock holdings and Euro Auctions are attracting those customers as consignors, disposing of their old machines."
He continues: "OEMs are now supplying, and dealers disposing of used machines in a swop for new, we continue to see good late machines at all auctions. Euro Auctions are attracting those fresh machines and we are still amazed that many in the industry fail to comprehend the breadth of choice in the industry of late plate machines at all Euro Auction sales. At this April sale, the volume of excavators, dozers, crushers & screeners, dump trucks, loaders, telehandlers, back hoes and manlifts, that were 2018 to 2023 plate machines, represented 24% of all machines sold in those categories. That is the calibre of the equipment that Euro Auctions can push over the ramp at each sale and that is why consignors sell with us."
Machines for export are selling well, he says, with a lot of the older equipment holding its values. End markets include Spain, Portugal, North Africa, Eastern Europe and Turkey (rebuilding after an earthquake), as well as Ukraine, where generators and excavators are much in demand.
The next Euro Auctions plant sale in Leeds is on 14th-17th June.

Top Picks
"Of all the equipment sold, here are some of my personal top picks from the April sale," says Chris Osborne.
Commercials

2023 Volvo FH16 750 Euro 6, 6x4, 120-tonne – £184,000

2022 Scania S500 6x4 Double Drive, Tipping Gear, Slider, Sat Nav – £118,000

2019 Scania R650 LHD 6x4 Double Drive, Slider, A/C – £69,000

2023 Scania P450 XT 8x4 Tipper Lorry, Easy Sheet, Thompson Body – £197,500

2023 Scania P450 XT 8x4 Tipper Lorry, Easy Sheet, Thompson Body – £192,000

2021 Mercedes ACROS 3240 8x4 Tipper Lorry, Thompsons Body – £88,000

2018 Scania P410XT 8x4 Tipper Lorry, Abba Body, Easy Sheet – £66,000
Tractors
2018 John Deere 6175M 4WD, Front Linkage – £51,000

2019 John Deere 6155M 4WD, Front Weight, Front Suspension – £64,000

2016 John Deere 6130M 4WD, Front Weights – £38,000

2019 New Holland T7.210 4WD, Front Linkage, Front Suspension – £45,500
Telehandlers
Backhoe loaders
2018 JCB 3CX P21 Eco Turbo Powershift Sitemaster– £43,000
Wheeled loaders
Dozers
Site dumpers
Articulated dump trucks
2015 Bell B50E 6x6, Tail Gate, Reverse Camera – £68,000

2014 Bell B50D 6x6, Auto Lube, Tail Gate, A/C – £68,000

2017 Volvo A40G 6x6, Tail Gate, Camera, A/C – £154,000
2017 Volvo A30G 6x6, Tail Gate, Camera, A/C – £119,000
2010 Volvo A30E 6x6, Reverse Camera, A/C – £52,000
2008 Volvo A30E 6x6, A/C – £51,000
2011 Volvo A25F 6x6, Reverse Camera, A/C – £63,000
Mini excavators
2019 Volvo ECR50D Rubber Tracks, Blade, Offset, QH, Piped – £26,000
2018 Volvo EC55C Rubber Tracks, Blade, Offset, QH, Piped, A/C – £21,500

2018 Kobelco SK55SRX-6 Rubber Tracks, Blade, Offset, CV, QH, Piped – £24,000

2017 Kubota U55-4 Rubber Tracks, Blade, Offset, CV, QH, Piped – £24,500

2017 Cat 305E2CR Rubber Tracks, Blade, Offset, CV, QH, Piped, Aux – £23,500
2015 Cat 305E2CR Rubber Tracks, Blade, Offset, CV, QH, Piped, Aux – £20,500
6 tonne+ excavators
2018 Cat 308E2CR 450mm Pads, Blade, Offset, Camera, A/C – £33,500

2021 Hitachi ZX85USB-6 450mm Rubber Block Pads, Blade, Offset' Camera, A/C – £57,500

2017 Hitachi ZX85USB-5A Rubber Tracks, Blade, Offset, CV, QH, A/C – £29,500

2020 Hyundai Robex R80CR-9A Rubber Tracks, Blade, Offset, CV, QH, Piped, A/C – £35,000
10 tonne+ excavators
2019 CAT 313FL 700mm Pads, Reverse & Blind Spot Camera, A/C – £40,000

2020 Hitachi ZX130LCN-6 700mm Pads, 3 Way Camera, A/C – £51,000

2019 Hitachi ZX130LCN-6 700mm Pads, 3 Way Camera, A/C – £47,000

2018 Hitachi ZX130LCN-6 700mm Pads – £43,000
20 tonne + excavators
2022 Hitachi ZX690LCR-7 600mm Pads, QH, 3 Way Camera, A/C – £385,000

2022 Doosan DX530LC 600mm Pads, CV, Piped, Reverse Camera, A/C – £187,000

2018 Kobelco SK350LC-10 800mm Pads, CV, QH, Piped, Aux. Piping – £63,000

2019 Komatsu PC360LC-11 700mm Pads, CV, QH, Piped, 3 Way Camera, A/C – £95,000