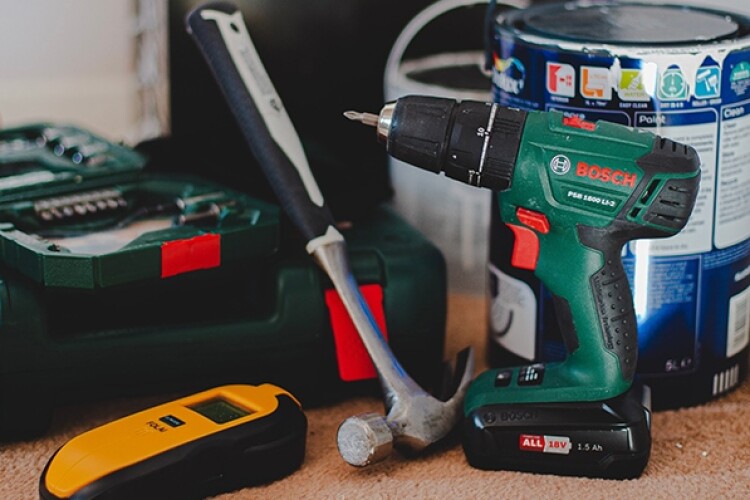 Monthly construction output increased by 3.5% in volume terms in November, which was the largest monthly rise in construction output since March 2021.
Construction output in November was £14,676m – the highest since September 2019, before we had even heard of Covid-19.
November's rise came after the previous month had shown the steepest fall in 18 months. [See our previous report here.]
Anecdotal evidence from the Office for National Statistics (ONS) survey returns suggested that the easing of supply chain bottlenecks for certain products and the unseasonal mild and dry weather lay behind the increase. The percentage of business saying that they had been unable to get the materials, goods or services they needed fell from 10.0% in October to 5.4% in November.
The increase in monthly construction output in November 2021 came solely from an increase in new work (5.7%) as repair & maintenance saw a slight decline of 0.2% on the month, according to the ONS.
Infrastructure new work and private housing new work were the largest contributors to the monthly rise in November 2021, increasing by 11.4% (£286m) and 5.5% (£160m) respectively. Infrastructure new work last saw stronger monthly growth in May 2020 (21.4%) with anecdotal evidence suggesting renewable energy projects along with road and rail developments are contributing significantly to the large increase in this type of work over the last 18 months.


Private housing repair & maintenance was the only sector to have fallen in November 2021, decreasing by 2.4% (£49m).
Construction output in November 2021 was 1.3% (£197m) above the February 2020 pre-coronavirus pandemic level. Although new work was 1.6% (£148m) below the February 2020 level, repair & maintenance work was 6.9% (£345m) above it.
In the three months to November 2021, construction output rose 1.6%. This was the first three-monthly increase since July 2021, with similar increases seen in both new work, and repair & maintenance (1.5% and 1.6% respectively).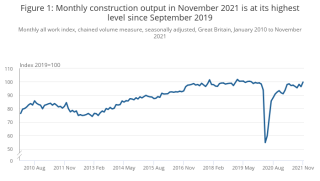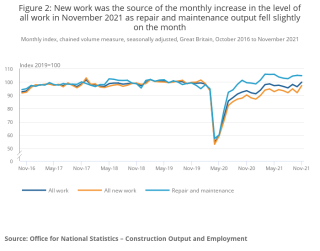 Got a story? Email news@theconstructionindex.co.uk