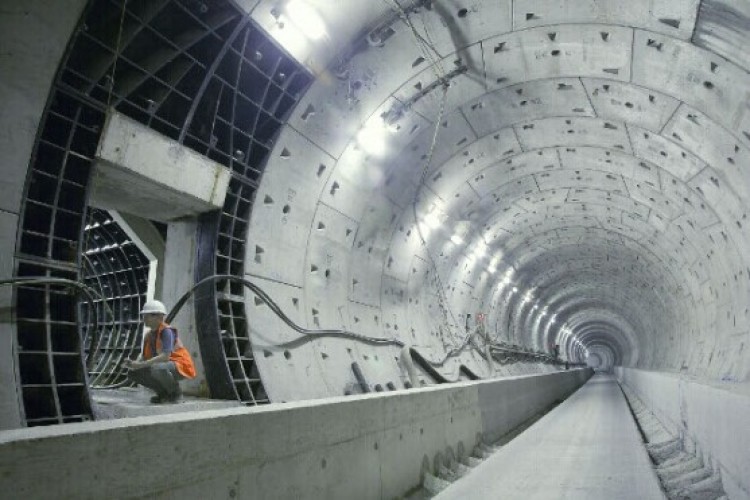 All 21km of twin-bore tunnelling works for Crossrail is now let. Tunnel boring machine manufacturers will be confirmed later this month.
Hochtief/Murphy has been awarded a £190m contract for the Thames Tunnel from Plumstead to North Woolwich (contract C310).
Vinci Construction UK has been awarded the Connaught Tunnel refurbishment contract (C315) for £35m.
These two projects together will deliver the construction of around 3km of twin-bored tunnel.
Morgan Sindall has won the Pudding Mill Lane portal contract (C350), worth £50m. Work will involve the construction of a tunnel portal and a new elevated Docklands Light Railway station at Pudding Mill Lane. When the new DLR station opens in 2013, the existing Pudding Mill Lane station will be demolished to make way for a cut and cover tunnel and covered ramp to connect the planned Crossrail tunnel to the existing Network Rail infrastructure. The four year project starts in mid 2011, with a shutdown for the nearby Olympics next summer.
The Pudding Mill Lane portal is one of five new tunnel portals to be constructed as part of Crossrail, with the others at Royal Oak, North Woolwich, Victoria Dock and Plumstead.
The Western and Eastern running tunnels will have tunnel portals at Royal Oak, Pudding Mill Lane and Victoria Dock. The Thames Tunnel between North Woolwich and Plumstead will have tunnel portals constructed at either end in advance of the main tunnelling works. Construction of the first tunnel portal at Royal Oak got underway in January 2010.

The North Woolwich Portal and Plumstead Portal is included as part of main works for the C310 Thames Tunnel contract. The Victoria Dock Tunnel Portal construction contract will be awarded later this year.
The Crossrail organisation has also been restructured, with Crossrail Ltd, project delivery partner Bechtel and programme partner Transcend now working together as a single organisation. The integrated structure also gives the contractors responsibility for construction progress  and risk management. This increases the incentive for the private sector to deliver Crossrail on time and within budget, the client said.
Crossrail chief executive Rob Holden said: "Crossrail and our delivery partners Bechtel and Transcend have achieved significant progress to-date and together we are now gearing up for the intensive phase of construction that will commence with the start of main tunnelling next year. The award of the remaining tunnelling contracts is further evidence of the significant progress that Crossrail has made over the last year and shortly our tunnelling contractors will confirm the manufacturers for the tunnel boring machines needed to deliver Crossrail."
The shortlisted bidders for C310 -Thames Tunnel (Plumstead to North Woolwich) were:
BAM Nuttall Ltd, Ferrovial Agroman (UK) Ltd, Kier Construction Ltd;
Balfour Beatty Civil Engineering Ltd, Alpine BeMo Tunnelling GmbH, Morgan Sindall (Infrastructure) plc, Vinci Construction Grand Projects;
Costain Ltd, Skanska Construction UK Ltd, Bilfinger Berger Ingenieurbau GmbH Niederlassung Tunnelbau;
Laing O'Rourke Construction Ltd, Strabag AG, Bouygues Travaux Publics; and
Hochtief Construction AG, J Murphy & Sons Ltd.
The shortlisted bidders for C315 - Connaught Tunnel refurbishment were:
Vinci Construction UK Ltd;
Hochtief Construction AG, J Murphy & Sons Ltd;
BAM Nuttall Ltd; and
VolkerFitzpatrick Limited, Barhale Construction plc.
The shortlisted bidders for C350 - Pudding Mill Lane Portal were:
Vinci Construction UK Ltd;
Carillion Construction Ltd;
Dragados-Sisk Joint Venture; and
Morgan Sindall (Infrastructure) Limited.
Got a story? Email news@theconstructionindex.co.uk