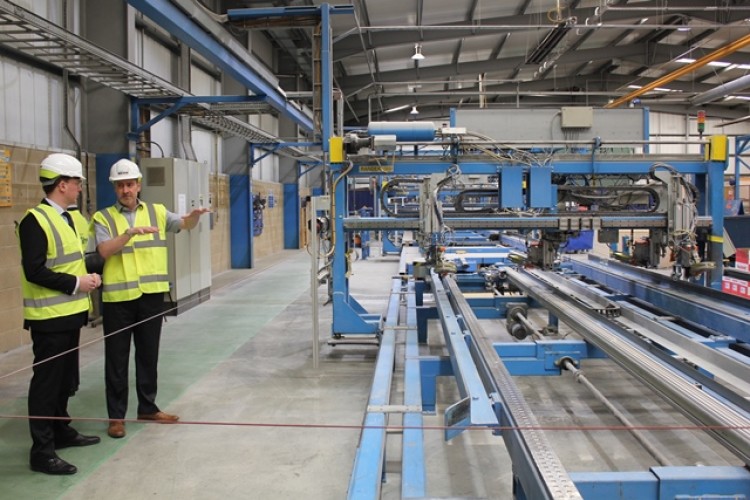 Knauf says that the new system, called Supafil Frame, could shave hours off the process of insulating modular homes. It blows unbonded glass mineral wool into wall panels at the point of manufacture and can reduce the time it takes to create a single panel.
Knauf, a manufacturer of mineral wool insulation, has developed the process in conjunction with Stewart Milne Timber Systems. It saves time in off-site manufacturing by removing the need to cut and install conventional rolled mineral wool or rigid board insulation in each panel. This makes the production process quicker while ensuring that there are no gaps in the insulation.
In contrast to 'wet' blown systems that use plastic-based insulation and can only be installed within a fixed temperature window, Supafil Frame works at room temperature all year round.
The virgin glass mineral wool used in Knauf Insulation's proprietary system has a Euroclass 'reaction to fire' rating of A1 non-combustible. The mineral wool can also be compressed by 72% – meaning that it takes up a third of the space of plastic based insulants, both in transit and storage.

Asif Dar, technical support team manager at Knauf Insulation, said: "The surge in popularity of modular construction is partly the result of the wider industry's aim to plug the shortfall in the UK's housing stock. But it relies on all of the processes being as efficient and quick as possible. We worked with Stewart Milne Timber Systems to implement a system that would reduce the time needed to install insulation, improve thermal, acoustic and fire performance and reduce waste."
Supafil Frame has achieved a Gold rating for indoor air comfort from independent test body Eurofins, certifying that it is an outstanding material according to indoor air quality emissions regulations.
Stewart Milne Group director of product development Stewart Dalgarno said: "We are really proud to be the first in the UK to invest in this innovative technology. We feel we are leading the way and are excited to see how it develops over the coming years."
Got a story? Email news@theconstructionindex.co.uk