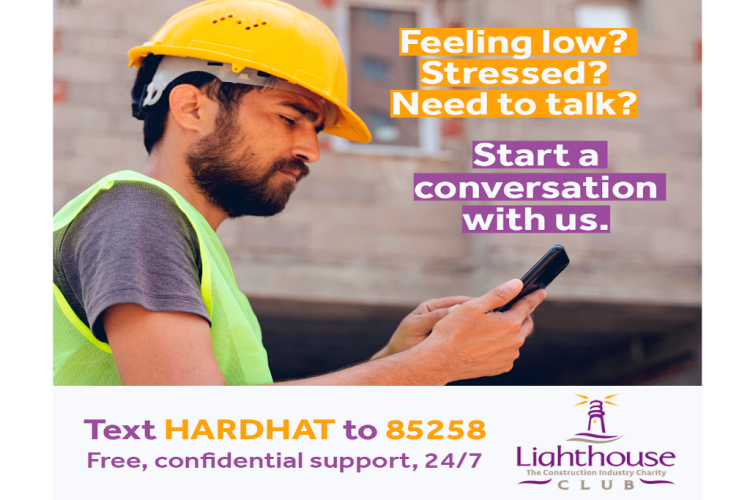 85258 is the text number for Shout, a free, confidential, 24/7 text messaging support service for anyone struggling to cope. It was set up in 2019.
Now Lighthouse is promoting the service to the construction industry, but instead of texting the word Shout, Lighthouse is telling people to text the word Hardhart to the same number. Different trigger word but same number, same service.
The text Hardhat to 85258 service complements Lighthouse's existing 24/7 telephone helpline and helpline app. Some people prefer texting to talking.
Bill Hill, chief executive of the Lighthouse Construction Industry Charity said: "Our new text Hardhat to 85258 service comes at a time when many are still struggling on a daily basis with debt, anxiety and family issues. Some things are returning to normality but there are still far reaching consequences and underlying problems that remain as a result of the Covid 19 pandemic. These pressures are in addition to the normal stresses and strains of working in an industry where two workers take their own life every single working day and a fifth of all work related illness is due to stress, anxiety or depression.
"We know that there are many people who feel embarrassed or unable to reach out for help by calling someone.  Introducing our text Hardhat to 85258 service is yet another route to access support before situations escalate out of control. We cannot stress enough that it really doesn't matter how small or large you think your problem is, there is always support available and we can provide that help through the channels that people feel most comfortable with."
Texters are advised ahead of the conversation that any data they share with the service can be processed and stored.
Got a story? Email news@theconstructionindex.co.uk