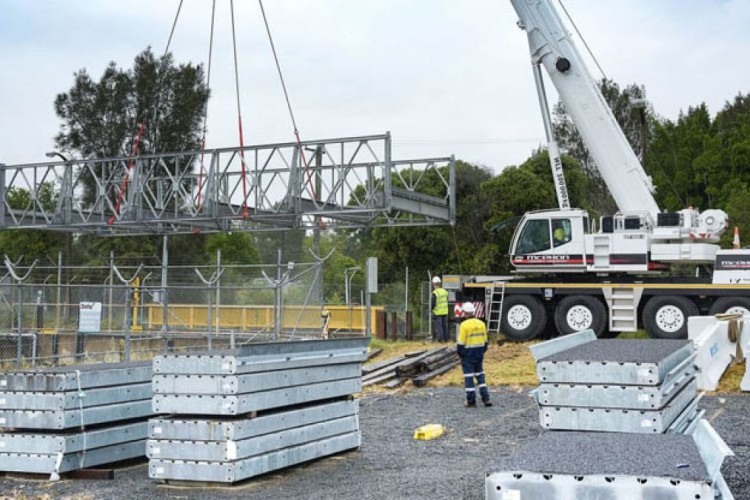 For its first commission, Mabey has provided a temporary bridge to support  Ertech in its construction work at the Colongra gas generation plant in New South Wales as the existing bridges cannot support the required loads. The bridge was installed in just four hours and will be on site until construction is complete.
Mabey entered the Australian construction services market in 2013 and the business has grown to support customers across Australia and New Zealand from eight depots. It has been specialising in groundworks but is now expanding into bridging.
The new temporary bridge – the Mabey Compact 200 – is a prefabricated modular steel bridge that has been designed to be light, reuseable and quickly assembled on site. The bridge for the  Munmorah site consists of five bays - each 3m long – and is 4.2m wide. It has been configured to provide a safe crossing over a canal for a 'B-Double' truck and construction equipment. A B-Double Truck is a prime mover train that pulls two semi-trailers linked by a fifth wheel, and can be up to 26 metres long.

Jon Williams – Ertech operations manager, NSW, said: "Ertech was faced with a challenge to provide a temporary bridging solution to remove the inherent risk with undertaking structural repairs to an existing, access-critical bridge. The solution offered by Mabey provided a bridge that allowed for rapid deployment and operation, enabling Ertech to respond to the dynamic conditions of the site and client requirements. During this process, Mabey provided prompt and timely response to project requirements, in confirming the structural capacity of the solution, as operating conditions were further defined."
Mabey Australia CEO Brendon Flaxman said: "Ertech's requirements mean this type of modular steel bridge is ideal because it helps them deliver their project faster, safer and more efficiently. With standard, interchangeable components, modular steel bridges can be installed significantly faster and bear the weight of the largest vehicles and equipment that they bring onto site. What's more, steel is lower in cost compared to concrete and the environmental impact is also reduced thanks to the fact that steel has high levels of recycled material.
Got a story? Email news@theconstructionindex.co.uk