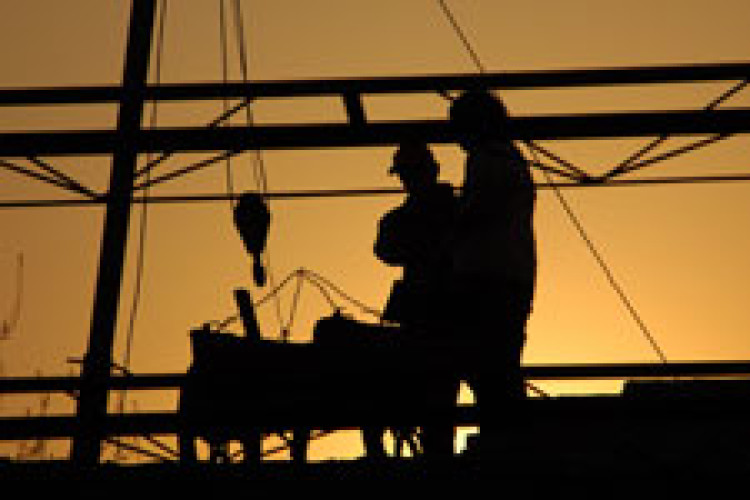 February 2018 data suggests subdued growth conditions continue across the UK construction sector at the beginning of 2018 with new work decreasing for the second month running and total business activity increasing only marginally.
Buyers report that fragile business confidence and ongoing political uncertainty are holding back client demand. At the same time, material prices are rising, along with fuel bills and staff wages.
At 51.4 in February, the seasonally adjusted IHS Markit/CIPS UK Construction Purchasing Managers' Index (PMI) was slightly up from January's four-month low of 50.2. Any score over 50 indicates growth but by comparison the average monthly score in 2017 was 52.3.
Civil engineering was the worst performing category of construction work in February, with activity falling at the sharpest pace for five months. House-building remained softer than it has been in February, putting residential work on track for its weakest quarter since Q3 2016. The main bright spot was a solid upturn in commercial construction, which expanded at its fastest rate since May 2017.
New business volumes fell during February, although the rate of decline was only marginal and slightly slower than seen in January. Survey respondents said there was a lack of tender opportunities to replace completed work on infrastructure projects.
Weak business activity growth and lower new order volumes both weighed on input buying. Relatively subdued demand for construction materials helped to alleviate some of the pressure on supply chains, with the latest downturn in vendor performance the least marked since September 2016. Input cost inflation remains strong, driven by materials prices. Survey respondents noted that increased fuel costs and greater staff wages had pushed up operating expenses. However, the overall rate of input cost inflation was much softer than the five-and-a-half year peak seen at the start of 2017.
Construction companies indicated that business confidence has moderated since January and is now just about as low as it has been over the past five years.
Tim Moore, associate director at IHS Markit and author of the IHS Markit/CIPS Construction PMI, said: "The construction sector endured another difficult month during February, with fragile business confidence, entrenched political uncertainty and softer housing market conditions all factors keeping growth in the slow lane. Residential work appears on track to experience its weakest quarter since Q3 2016, suggesting that house building is losing its status as the main engine of construction growth.


"Civil engineering activity was the worst performing category in February, with survey respondents again commenting on a shallow pool of work to replace projects reaching completion. While subdued house building and infrastructure work acted as a brake on the construction sector, this was partly offset by a sustained turnaround in commercial building.
"The increase in work on commercial projects during February was one of the strongest seen over the past two years. Some construction firms noted that greater industrial demand, alongside structural changes in consumer spending habits, had contributed to new project opportunities.
"Despite pockets of resilience in the UK construction sector, there was little sign of an imminent turnaround in overall growth momentum. Reflecting this, total volumes of new work dropped for the second month running in February and business optimism was among the weakest recorded by the survey since 2013."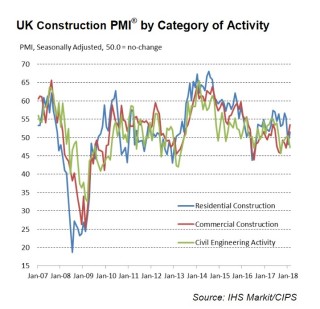 Duncan Brock, director of customer relationships at the Chartered Institute of Procurement & Supply, said: "The sector was feeling as flat as a pancake in February with falls in new orders for the second month in a row and with just a marginal rise in overall activity, as ongoing political and economic uncertainty shouldered the blame.
"Cost pressures continued to creep up and bear down on purchasing activity as raw materials became even more expensive and in shorter supply, and vendor performance degraded again impacting on the completion of projects. A talent shortage also gave staff the power to demand higher wages, adding to the overall cost burdens for business.
"Housing bore the brunt of this disappointing performance, though there was a weak improvement this month. With the government's intention to increase housing stocks, there will have to be a boost to the sector's fortune for these two trajectories to align.
"Overall, the only glimmer of hope through the masonry came from the commercial sector, with the strongest bounceback since May 2017 after languishing in the doldrums these past few months. And continued job creation was the biggest surprise as survey respondents may be preparing for stronger than expected work flows.
"But with the sector's optimism taking a tumble below its five-year trend, and without the reality of a strong pipeline of work to support activity, it will take more than spring sunshine to thaw the sector's prospects next month."
Got a story? Email news@theconstructionindex.co.uk