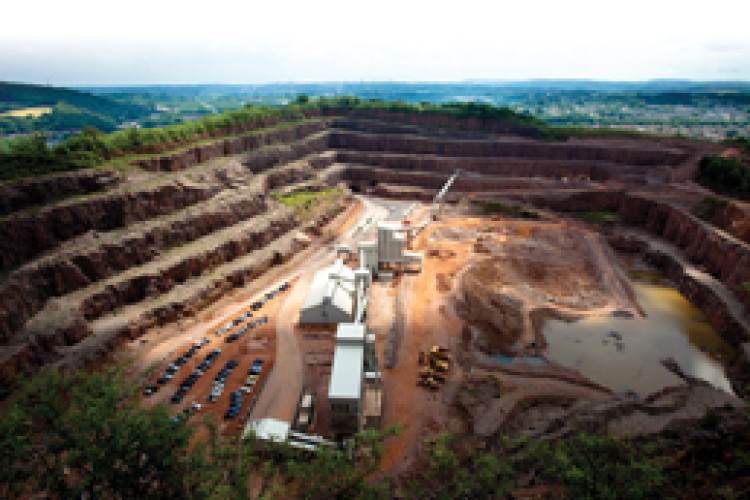 First the good news. The materials sector is now pulling strongly out of recession, as demonstrated by the first quarter figures for 2014 from the Mineral Products Association (MPA) – an increase of at least 15% on the same period a year ago.
Now the not-so-good news. Many issues caused by the recession – from retirement of workers to closing down of manufacturing plants – are starting to impact on the sector's efficiency, output and costs now the recovery is underway. Also, legal and regulatory expenses, which materials firms largely absorbed while demand was depressed, are now really biting – and customers may find their bills start rising. Indeed, one major player estimates that the sector is underpricing its products by an average of 30%.
More on that later, but first, where is the recovery coming from?
Housebuilding is a major part of the answer. Hanson's head of communications David Weeks puts it down partly to the government's Help to Buy scheme. "We've noticed a real difference since June 2013," he says. "2012 was the worst year we've ever had. We expected 2014 to be good; so far its been well ahead of forecast." The housing recovery has had a dramatic impact on brick supply. "This time last year, we could have given you 10,000 bricks with a week's notice," says Weeks. "Now, we couldn't say when they would be ready."
Meeting the demand is not straightforward. "Production is basically capped at present because so many works closed in the recession," explains Weeks. "It's much easier to mothball a quarry than a brickworks, so as a result many were shut.
"It's now a sellers' market, and prices are rising."
Besides bricks, housing has also kickstarted demand for other materials, says Lex Russell, UK vice-president of aggregates and asphalt at Cemex. "We're seeing demand for aggregates in groundworks of housing developments," he explains.
At the heavy end of the market, demand "is steadily gathering pace after being slow for quite a few years", according to Andi Hodgson, head of communications at Hope Construction Materials.
Key markets include energy and utilities, while major projects likes Crossrail and the new London Gateway port in Essex are also helping demand.
But aggregates is still a buyers' market, says Hanson's Weeks. "We've had to keep operations going just to stay in the market. If growth continues, we'll look at bringing mothballed operations back into operation." The cost associated with re-opening production facilities is one of many issues the sector is now wrestling with as demand rises. Transport – and the retirement of many hauliers – is a huge cost concern for most materials firms. Then there is the legal and regulatory landscape.
The planning system was changed by the coalition government and is now based more on local issues. "But because of low demand for five or six years, this new system hasn't really been tested yet," worries Jerry McLaughlin, economics director at the MPA. The concern is that planning consents for new quarries – which already take "an extraordinary length of time", says Weeks – may take even longer.

Another worry concerns the compensation scheme the government wanted to operate for 'energy intensive' industries, such as cement, lime and ceramics. "The European Commission is outlawing this," says McLaughlin, "which could mean tens of millions in costs to be passed on to the customer."
"It could really affect the competitiveness of British-made cement," adds Hodgson.
Europe has also poked its nose into the Aggregates Levy, with some potentially expensive consequences for developers.
The materials sector has largely absorbed the costs of the regulatory burden while demand has been low. But this may not be the case for much longer.
"My biggest concern is full cost recovery," says Russell. "We have worked very hard to make better utilisation of our asset base, but we're still not recovering our full costs. The capital required to sustain an aggregates business is immense.
"Consider that we recently spent £4m on archaeological costs at Kingsmead Quarry in Berkshire. That was all absorbed by Cemex, and was not passed on to our customers."
The implication is – prices will have to rise. But by how much?
"I'm not saying we'll put up prices this much – but on average, our products are underpriced by 30%," says Russell. "There are a few differences by region and product – for example, sand and gravel are more expensive in the south-east – but that's how much we're underpricing on average across the sector. We will always support our customers, but they need to be aware of our cost base." So, while the recovery is welcome, it is also going to pose a new set of problems for the materials sector and its customers. The recent growth should also be put into context. "The materials market is still 30% below its pre-recession peak," says McLaughlin.
This article first appeared in the May 2014 issue of The Construction Index magazine, which can be viewed in full at: http://epublishing.theconstructionindex.co.uk/magazine/may2014/
While the magazine is free to view online, a subscription is required to receive you own hard copy every month. This can be purchased for just £35 a year at http://www.theconstructionindex.co.uk/magazine
Got a story? Email news@theconstructionindex.co.uk