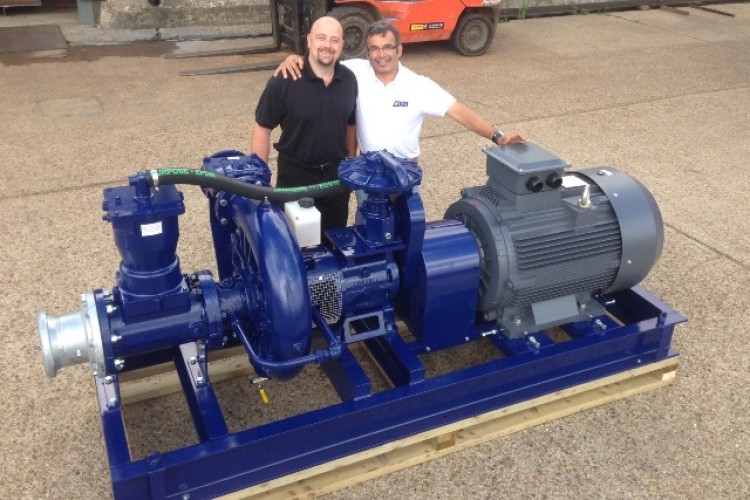 DXB Pump & Power, based near Ipswich, is the UK's newest pumpset manufacturer, with a range of high performance pumpsets for the UK and Irish construction industry.
Simon Ruffles set up Pioneer Pump to make, sell and hire industrial pumps in 2001. He sold a 35% stake to US listed company Franklin Electric in 2005, whose ownership increased to 70% in 2012 and then 100% in 2015.
After taking some time out for sailing, he is back in the pump business in partnership with operations manager Matt Flack, a former Pioneer colleague.
The aim is to specialise on specific niches, he says. There are no plans to build a competitor to Selwood. "We plan to grow the business focusing on construction, rental, quarrying and other smaller niche markets like renewables where our high efficiency equipment may lend itself to hybrid technology," Mr Ruffles said.
DXB's s750/40, is an 8-inch high-flow pumpset used in dewatering, bypass and flood relief application; the hh200/100 is a high-pressure portable set for the industrial pump rental market.
DXB claims that its s750/40, designed around the JCB 444 TCAE engine (100kw at 1800rpm), is the most powerful 8-inch pump capable of flows in excess of 1000m3/hr and pressures close to 7 bars whilst still managing to pass an 85mm solid. This makes it suitable for contractors involved in large marine construction projects or waste water applications.

Said Simon Ruffles: "Our s750/40 pumpset uses a compact and efficient four-cylinder engine designed by JCB to go into their own equipment so its lightweight, really fuel efficient but powerful.
"We designed our 8-inch pump onto this engine and when we ran it at a quiet 1800rpm we found we were doing 20% more flow at 30% more pressure than our closest competitor with a similar engine, and our other competitor had to jump to a six-cylinder engine running at 2000rpm to get anywhere near close in terms of pressure or flow."
The secret is the new pump end DXB use which has a hydraulic efficiency more than 80%, he said, making it possible to have this type of performance from a four-cylinder engine running at only 1800rpm.
Using this same philosophy, DXB has also designed the hh200/100 high-pressure pumpset for the hire market. This is the only four-cylinder 3-inch high pressure set capable of flows more than 200m3/hr at 10 bars. This makes it good for industrial markets such as tank cleaning and pipeline filling. With a maximum flow more than 240m3/hr and pressures over 12 bars, the new hh200/100 pump operates most efficiently at 1800rpm generating 160m3/hr at close to 8 bar – more than enough for most jetting applications in the construction market as well, Simon Ruffles says.
Got a story? Email news@theconstructionindex.co.uk