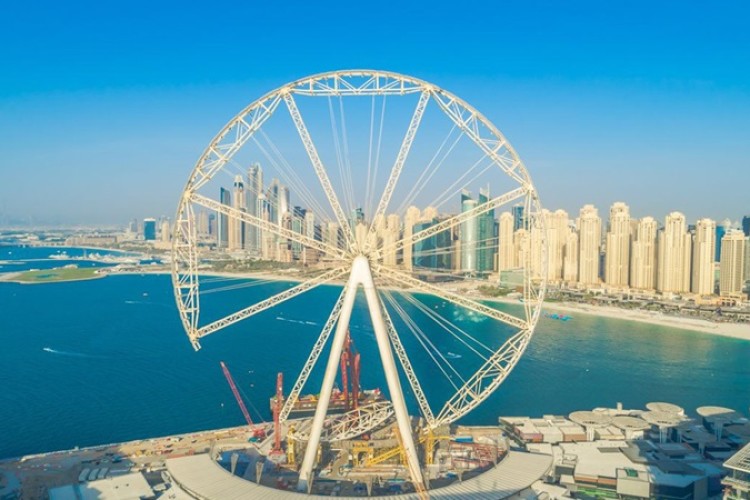 Mace is providing project management, cost consultancy services and construction advice on the Ain Dubai wheel to client Meraas. The wheel will stand over 210m tall – far higher than the London Eye's 135m – and will take in 360° views of Dubai, which is one of the world's fastest-changing cityscapes.
The attraction is being developed as a part of the £1bn Bluewaters Island project, a mixed-use manmade island which sits off the coast in Dubai Marina, adjacent to the Jumeirah Beach Residence.
Mace is drawing on the experience it developed when it built the world's tallest cantilevered observation wheel, the London Eye in 1999.
The complex construction sequence has to date seen the installation of seven out of the eight sections of the wheel, which are fabricated off site, transported to the island by barge and then lifted into place by the world's biggest crawler crane, a Liebherr LR13000. Each section weights 750t - as much as two Airbus 380 aircraft - and is lifted onto five temporary support structures. The rim sections are then connected to the hub with 115m-long temporary rigid spokes before the wheel is rotated 45° to receive the next rim section.

On completion, the entire structure will weigh in at 9,000t of steel and will be able to carry up to 1,440 visitors in its 48 custom-built pods.
Omar Delawar, chief projects officer at Meraas, said: "The assembly of the rim at Bluewaters is one of the most exciting phases in the construction of Ain Dubai, as it marks the arrival of the centrepiece of the island and another addition to Dubai's impressive skyline – one that creates a new meeting point for the city and economy, as well as an open place for people to share many new experiences together."
Piers Sidey, Mace's project director, said: "The sheer size of the Dubai Wheel means we are pushing the boundaries of engineering design. The step change in size of this Wheel generates multiple increases in terms of required strength and stiffness. Fabrication requires extremely tight tolerances to be strictly met in order to minimize the deviations in flatness and circularity across the diameter rim. It's really ground-breaking stuff.
"There have been many technical challenges to overcome in order to get this Wheel fabricated and built. As we near completion of the wheel itself, we are looking forward to the next phases of removing the temporary works and constructing the dramatic terminal building beneath the wheel."
Got a story? Email news@theconstructionindex.co.uk