Eighteen suppliers have been given a berth on a framework launched by Procurement for Housing (PfH) that is expected to be worth up to £100m over three years
PfH calls the framework Social Housing Emerging Disruptors, or SHED. Firms on the list, several of them tiny, offer new types of services and technologies to support with retrofit, development and fire safety targets.
Public sector procurement has traditionally been seen as a barrier to innovation, introducing processes and bureaucracy that make it harder to buy emerging solutions from entrepreneurial SMEs and micro-organisations. Fledgling suppliers are unable to scale their solutions and invest in further innovation because buying teams can't procure services compliantly under existing rules.
This framework sets out to address that.
Procurement for Housing has set up a dedicated SHED portal that will enable housing providers to conduct a desk-based supplier selection process. The portal will identify the supplier that can best meet their needs and PfH's procurement team will provide pricing information and support the contracting process. 
Innovators appointed to the SHED framework include: Bimdl, a blockchain-backed building information modelling (BIM) solution; Power Circle Projects, which provides low carbon smart energy solutions; Chameleon Digitization, which uses machine learning to spot dangerous gas canisters being taken into high rise buildings; Q-Bot, a robotic underfloor insulation installer; and Green Action Trust, which advises social landlords on the sustainability of their local environment.
PfH worked with the Proptech Innovation Network to find suppliers at the forefront of housing technology, data and software solutions and service design to join the framework.
A second generation SHED2 framework is planned for autumn 2022, bringing to market innovations developed since the first framework launched.

Neil Butters, head of procurement at PfH, said: "Over the past 12 months, our members have been telling us about the perfect storm of challenges they're facing with global supply chain disruption, a widespread skills crisis and huge pressure to meet fire safety, net zero and house building targets. There is urgent need for innovation that can help them address these problems, but public procurement regulations just haven't caught up. Housing providers can't compliantly buy the innovative services they need.
"The government is currently changing public procurement rules, but that reform might not come into force until 2023. We wanted to be brave and unpick the challenges around procuring innovation which is still a fairly intangible, transient category of goods and services. It was important we did that here and now for the sector, rather than sitting on our hands – no one else is really tackling it.
"Many of the suppliers we've appointed to the framework are small or micro businesses. We wanted to unlock their services for the social housing sector – these are pioneering, future-thinking organisations, many with a focus on sustainability or building safety. The SHED is about PfH supporting social landlords to identify and adopt innovation that will improve the lives of tenants."
The full list of supplies on the SHED framework is:
Bimdl
Operance
Chameleon Digitization
Crystal Clear Window Works
Twinnedit
Green Action Trust
Huume
iOpt
Illumar
Manifest Associates Safer Homes Toolkit
Power Circle Projects SLES Esco
Propeller Powered
PRP
Q-Bot
Rubixx Solutions
SME Energy Services
Vantage UAV
XMReality AB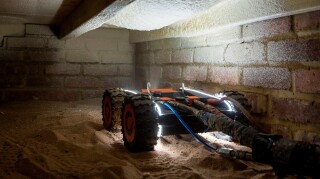 Procurement for Housing is a procurement services provider dedicated to the social housing sector. Set up by the National Housing Federation (NHF), Chartered Institute for Housing (CIH) and HouseMark in 2004, PfH procured £245m worth of goods and services in 2021
Got a story? Email news@theconstructionindex.co.uk