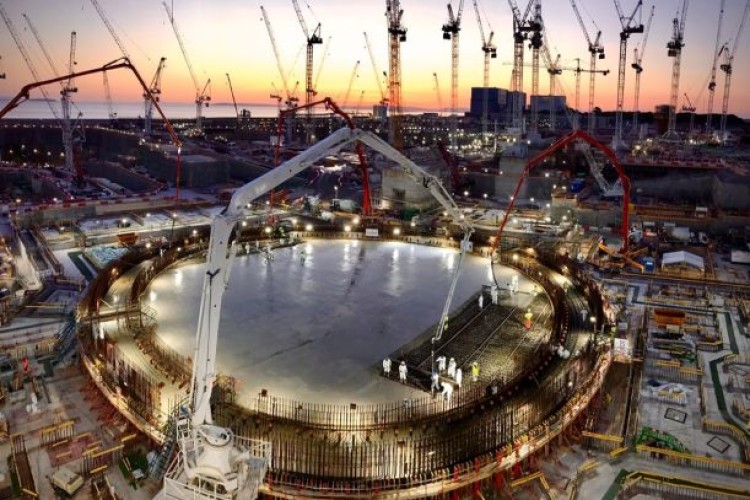 The 49,000-tonne base for the second reactor has now been completed, meeting a target date set in 2016. This target is called J-zero for the second reactor means that the construction of the nuclear buildings above ground can now begin.
The final concrete pour of 8,991m3 took four days and set a new UK record for a single continuous pour, beating by 37m3 the previous record set during construction of the base for Hinkley Point C's  first unit, which reached its own J-zero in June 2019.  (Jalon Zero is French term meaning 'marker-post zero'.)
The target was met despite the introduction of new operating procedures, including social distancing, to reduce the risk of spreading Covid-19 across the 3,000-strong workforce.
The concrete was supplied by Hanson UK. Stewart Cameron, head of nuclear operations at Hanson UK, said: "This exacting project requires every batch of concrete to be exactly the same and comply with the stringent quality standards laid down by the Office for Nuclear Regulation.
"Despite the challenges of working throughout the Covid-19 crisis, our team of 45 employees directly involved in the HPC project adapted well to the major changes required and continued to ensure that concrete of the required quality was produced consistently right first time, every time."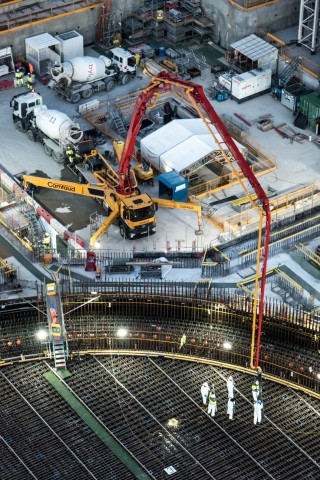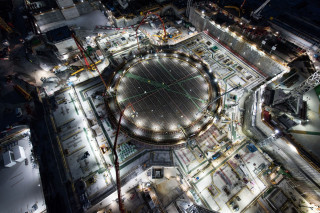 The Bylor joint venture of Bouygues and Laing O'Rourke are main contractors for the reactor buildings for Électricité de France and China General Nuclear Power Group, the French and Chinese state-controlled companies that are building the nuclear power station in Somerset.
Hinkley Point C managing director Stuart Crooks said: "Hinkley Point C has a strong culture of learning and innovation which is leading to improved productivity as we get ahead building our second identical reactor. This experience is a great basis for further identical reactors at Sizewell C in Suffolk." 
Bylor is delivering the main civil engineering works on the £20bn project, under contracts worth more than £2.8bn. The joint venture is constructing the buildings that will house the two European Pressurised Reactor (EPR) nuclear units. In total, Bylor is constructing more than 60 major structures over a seven-year period, with 1.2 million cubic metres of concrete all told.
Got a story? Email news@theconstructionindex.co.uk