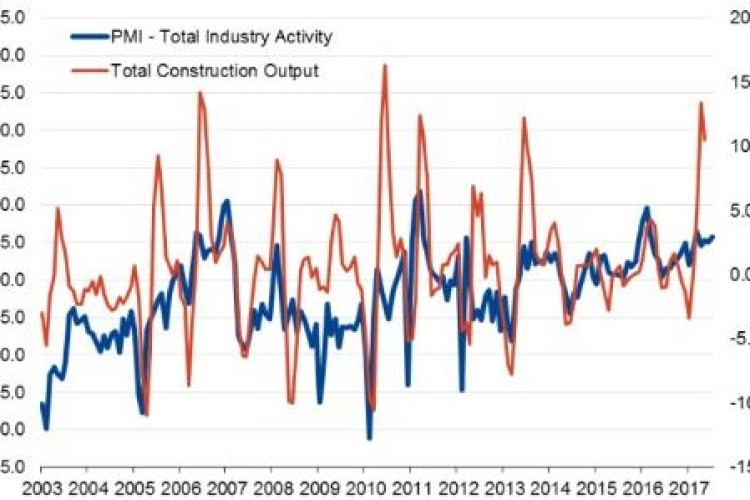 The industry's growth in July was broad-based across the residential, commercial and civil engineering sectors. The rise in new business led to construction firms boosting employment and the usage of sub-contractors during the month, with the latter increasing their charges at the second-fastest rate in the survey history.
Jobs increased for the twenty-fifth consecutive month, and the rate of expansion accelerated slightly since June. Usage of subcontractors also rose markedly in July, albeit at the slowest rate in three months. This partly reflected substantial increases in the rates they charged. Over the past two months subcontractor charges have increased by more than in any other period since the survey started in September 1999.
Trevor Balchin, director, economics at IHS Markit said: "Survey indicators continued to signal capacity pressures, with suppliers' delivery times lengthening by the most since December 2006 and the availability of subcontractors declining sharply."

Adjusted for seasonal factors, the headline Purchasing Managers' Index (PMI) remained well above the 50.0 'no change' figure in July, indicating strong growth in German construction activity. The PMI posted 55.8, up from 55.1 in June, indicating the second-fastest rate of growth since March 2016.
The three monitored areas of the construction sector all registered higher activity in July. The commercial sector continued to see the sharpest rate of growth, just ahead of civil engineering which posted the third-fastest rate of expansion in the survey history. The volume of new orders received by German construction firms rose for the ninth consecutive month in July.
Purchasing activity increased at the second-fastest rate since March 2016. This generated further pressure on supply chains, with average input delivery times lengthening to the greatest extent since December 2006. Input prices paid by construction firms continued to rise sharply, and the rate of inflation strengthened to a three-month high.
Got a story? Email news@theconstructionindex.co.uk