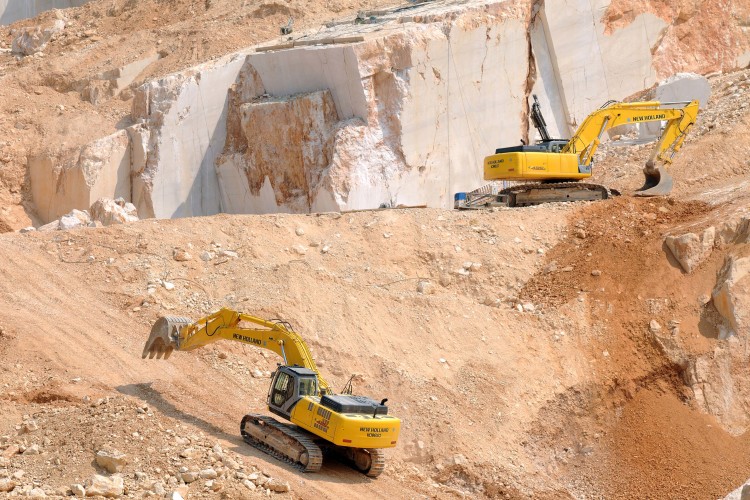 Its perennial beauty can be admired in splendid monuments such as the Ara Pacis in Rome and Grand Central Station in New York. 
The quarry has been managed since 1932 by the Botticino Quarry Operators' Cooperative.  More than 50 people work there, some of them descendents of the founding associates, alongside several New Holland Construction machines including two late-model E485B hydraulic excavators. 
The first one, with 351 HP and maximum torque of 1400 Nm at 1400 rpm, was delivered to the quarry in 2008. Its exceptional performance on the job convinced the Cooperative to order a second one, delivered in January 2010. As in any quarry, and perhaps even more so here than elsewhere, working conditions are extremely demanding, and the shovels and excavators used are particularly heavy-duty, with operating weights of 50 tonnes. 
Planning supervisor Sergio Romagnoli explained that every excavator must work around extremely steep slopes, sometimes greater than 40%, and handle blocks of marble that can weigh up to as much as 30 tonnes, for 1,200 hours annually. But thanks to the manoeuvrability and reliability of the New Holland machines, the task is completed smoothly and easily 
"For an excavator working in a quarry like this one here in Botticino the arm is everything," explained New Holland's Guglielmo Perona. "It has to be extremely strong to be used as a lever for moving huge loads. It has to resist when it is tearing marble out of the mountain. To do so, the E485B has an arm and penetrators (that is the end pieces that dig or move earth and masses) that have been redesigned and strengthened at the points of greatest stress to prolong the life of the equipment." 
Great improvements have been made to the E485B's structure over the years, with a completely new design that improves the centre of gravity of the equipment. The hydraulic pistons were also reinforced to reduce shocks and recoils. Finally, among the most important characteristics of this machine are the double-tread tracks that provide perfect traction for steep terrain, even in rainy weather. 
New Holland quality and reliability, together with punctual service from the Maren SpA dealership in Bergamo, are key elements for maintaining an uninterrupted supply of Botticino marble to the four corners of the earth. 
The Dealership
The Maren-CMO dealership in Curno, Bergamo, carries the entire range of New Holland Construction machines for the provinces of Bergamo, Brescia, Mantova, Sondrio, Cremona and Liguria. Maren sells and rents equipment as well as providing assistance with the help of its 25 mechanics and 14 dedicated service vans. Founded in 1961 as a repair centre for earth moving machines, Maren was one of the first Italian firms to be certified UNI-EN ISO 9001 for the quality assurance of its services.
E485B: Model equipped with a low consumption Common Rail motor, now more powerful and ecological with 6 cylinders, 10.5 litres and 258 kW of power at 1850 rpm. It has an operating weight of 50.3 tonnes. The advanced hydraulic installation of this machine, with extremely fast cycles, matched with a high-volume bucket (1.66 by 2.60 m³), provides optimum productivity with the lowest fuel consumption in its category. Under particularly demanding conditions, the Continuous Power Boost – exclusive to New Holland Construction – provides increased hydraulic pressure up to 34.3 MPa with no time limit. 
Pictured: New Holland Construction excavators at work in the quarries of Botticino 
Got a story? Email news@theconstructionindex.co.uk