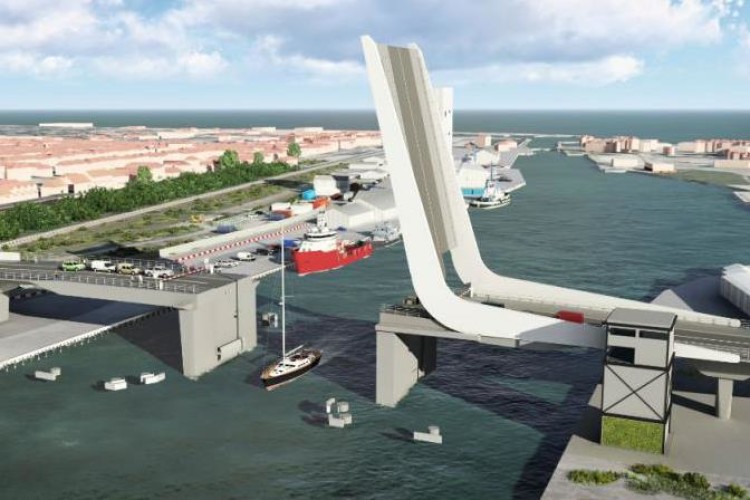 The proposed Lake Lothing Third Crossing in Lowestoft will be a lifting bridge to enable tall vessels to pass through.
The county council is hoping to start construction in 2019, with a projected completion date of December 2022.
A planning application is expected to be submitted to the Planning Inspectorate in the first quarter of 2018.
In 2015, Suffolk County Council was given funding to develop an outline business case and appointed Kier and Mouchel as consultants to identify and assess ways of improving north south connections across Lake Lothing. From this work, a preferred option was selected, to link from the A12 via Waveney Drive on the south side to Denmark Road and Peto Way on the north side of Lake Lothing.
The bridge will be required to open to maintain the Port of Lowestoft's operations. The proposed crossing will be 12 metres above the high tide levels, significantly higher than the A47 bascule bridge, enabling a larger number of vessels to pass under the new crossing without a need for it to open.
To open the bridge, hydraulic pistons lift the bridge deck, which rolls back on the vertical part of the structure, that contains a counterweight, holding the bridge at a specific angle to allow vessels to pass through.

Project objectives include: to reduce congestion; to open up opportunities for regeneration and development; and to provide the capacity needed to accommodate planned growth in Lowestoft.
The delivery will be in two stages with the contractor engaged to undertake the professional services to achieve target price. Subject to price, the same contractor will then undertake the build phase under an engineering and construction contract. The value of the main construction contract is estimated at £60m.
In total, the new crossing consists of a multi-span bridge, which includes an opening bridge, a new rail bridge on the north side over the existing East Suffolk Line and a new road bridge (underpass) on the south side.
Information for bidding is via www.suffolksourcing.uk
Got a story? Email news@theconstructionindex.co.uk