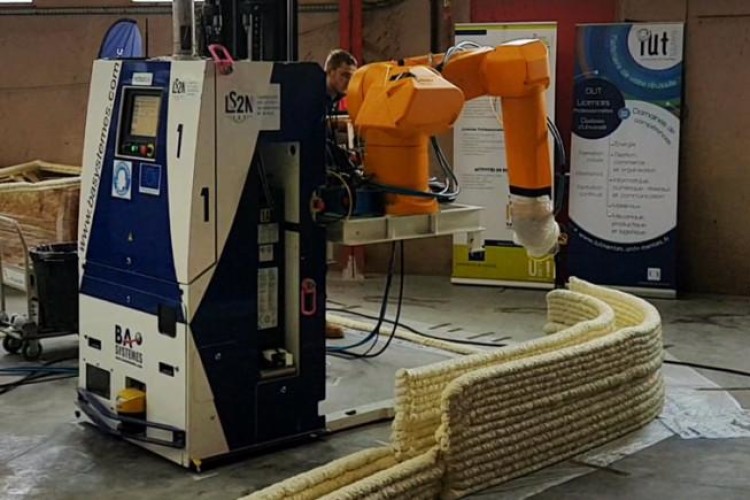 Bouygues Bâtiment Grand Ouest will act as general contractor to construct the demonstrator housing for the social housing provider Nantes Métropole Habitat.
The 95m2 YHNOVA house will contain five rooms and will have curved walls, corners and openings of varying sizes. Bouygues said that it will be amalgamation of complex architectural forms and will be built using Batiprint3D, a robotic additive manufacturing technology patented by the University of Nantes.
It has the ability to deposit three layers of material using a 'polyarticulated' industrial robot. Two layers of expanding foam are used as formwork for the third layer of concrete. Once the walls have gone up, the foam remains in place, serving as a double layer of insulation without creating a thermal break. The robot's path is guided directly on the slab by a laser sensor, using the digital modelling of the house.
This process reduces the build time and ensures high-quality insulation, said Bouygues. Using a mobile robot will enable the construction industry to rethink working methods in order to improve working conditions and limit the number of hazardous jobs or roles that cause musculoskeletal disorders, it said. This will also help to strengthen the attractiveness of building and civils careers, it added.

The technology is the fruit of interdisciplinary work between research teams from the Nantes Digital Sciences Laboratory (University of Nantes, CNRS, Ecole Centrale, Inria, IMT Atlantique) and the Research Institute of Civil Engineering and Mechanics (University of Nantes, CNRS, Ecole Centrale).
The project is part of an R&D programme led by Bouygues Construction that involves identifying, updating and implementing the structural works techniques of the future.
Bouygues Construction is supporting this project by providing expertise and logistics. "The aim is to prove that housing can be built to the highest quality standards, for all trades, but using different methods. This is an initial step that will enable us to learn a huge amount in terms of creating the construction methods of the future." says Bruno Linéatte, R&D director at Bouygues Construction and responsible for construction methods.
Got a story? Email news@theconstructionindex.co.uk