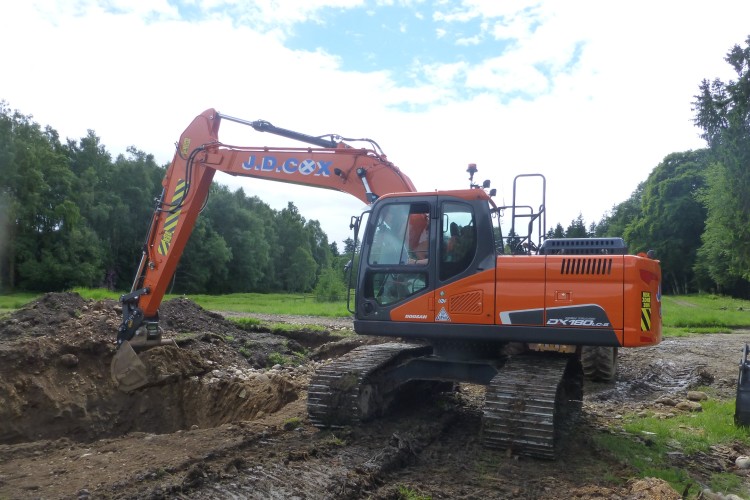 J D Cox, based at Dunkeld in Perth and Kinross in Scotland, has bought the Dash-5 DX180LC-5 High Track model from Balgownie, the local authorised Doosan and Bobcat dealer.
Company owner James Cox said: "The majority of our business is in the forestry sector, building and maintaining the infrastructure including roads and drainage. The bulk of our contracts are for Scottish Woodlands and Tilhill Forestry. We explained our needs to David Moir, the local construction sales executive for Balgownie, and he suggested this new machine to us. 
"The DX180LC-5 High Track machine is perfect for all aspects of work in this environment, including the mounding projects that form part of the restocking phase after a forest has been cut down.  The high track design and the narrow track width of the machine allow us to easily negotiate all the stumps that are left after the wood is cut – it's a fact that the stumps and other debris are as dangerous to the underbelly of machines as passing over large rocks when moving about the forest floor."    
Like its sister DX160LC-5 HT 16.8t model, the new DX180LC-5 HT 18.5t High Track model is designed to meet the needs of customers requiring a combination of higher ground clearance, a reinforced track frame and a strong traction system with reinforced upper rollers for work in harsh environments and on projects where larger travelling distances are involved. 


Doosan said that the machines are particularly suited to the forestry industry, where the higher ground clearance, durable travelling system and the traction force allow them to move with ease over rough terrain, negotiate obstacles such as fallen tree trunks and to pull trailers loaded with wood.
Cox added: "As well as helping to replant the trees, the DX180LC-5 HT excavator is ideal for the infrastructure work, building and repairing the roadways needed for the harvesters, forwarders, articulated trucks and other large vehicles to move easily in the forests.  Much of the stone used in the road building, we win ourselves using the DX180LC-5 HT excavator equipped with a breaker."  
The DX180LC-5 HT is an enhanced version of the Doosan DX180LC-5 excavator, offering a ground clearance of 615mm, compared to 460mm in the DX180LC-5.
Got a story? Email news@theconstructionindex.co.uk