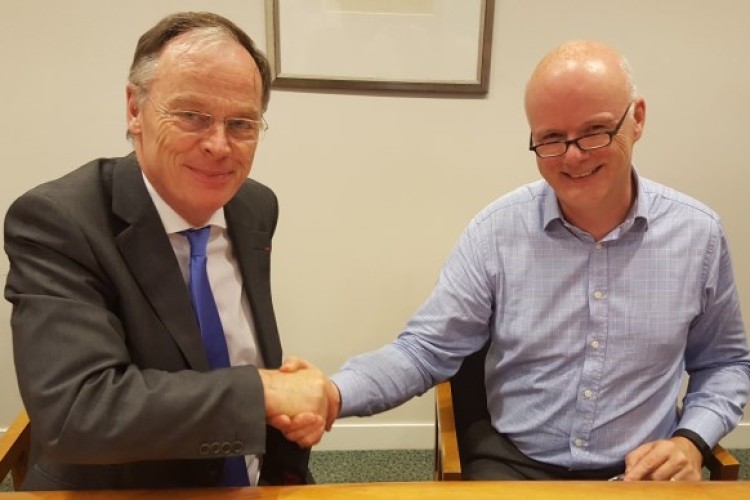 EDF Energy Services has agreed a takeover deal with Imtech's current owner, private equity firm Endless LLP, which itself saved Imtech UK and Ireland just two year ago after the previous Dutch parent company Royal Imtech fell into administration.
The purchase price has not been disclosed.
Imtech is a leading mechanical and electrical engineering contractor with more than 2,100 employees and annual revenues of more than £400m.
Completion of the deal is subject to merger control clearance from the European Commission.
EDF, which is controlled by the French state, said that Imtech would retain its operational autonomy within EDF Energy Services, under the same management team.
Vincent de Rivaz, chief executive of EDF Energy, said: "As the UK's leading generator of low carbon electricity and a major supplier to businesses, the addition of Imtech is a significant step in the development of energy services and low carbon solutions for our valued customers. This agreement is a key element of our strategy for long-term growth and investment, and a further demonstration of our commitment and support for British businesses and industries.


"We are delighted to welcome the 2,100 employees of Imtech. There is a close fit between the two businesses with our shared passion for safety, innovation, digital solutions and quality of service for customers."
Dalkia chief executive Sylvie Jehanno said: "Thanks to this acquisition, we are excited to welcome the skilled and experienced Imtech teams to EDF Energy Services. Their existing customer relationships will provide a solid platform from which we can continue to grow the business. I am convinced that our combined expertise will enable us to continue to support our customers and develop innovation and digital solutions for their benefit."
Paul Kavanagh, CEO of Imtech UK and Ireland, added: "We are delighted to become part of the EDF family. The support of EDF Energy Services strengthens our capacity to continue to grow and build on our relationships with new and existing customers in the years ahead. I would like to recognise the support our customers have given the business over many years and we look forward to continuing to partner with them.
"By combining forces with EDF Energy Services, we have secured greater capability to respond to the future needs of our customers, and will be able to design and deliver innovative solutions.
"Endless has been a great owner of Imtech and I would like to thank them for all their support and input over the last two years."
Got a story? Email news@theconstructionindex.co.uk