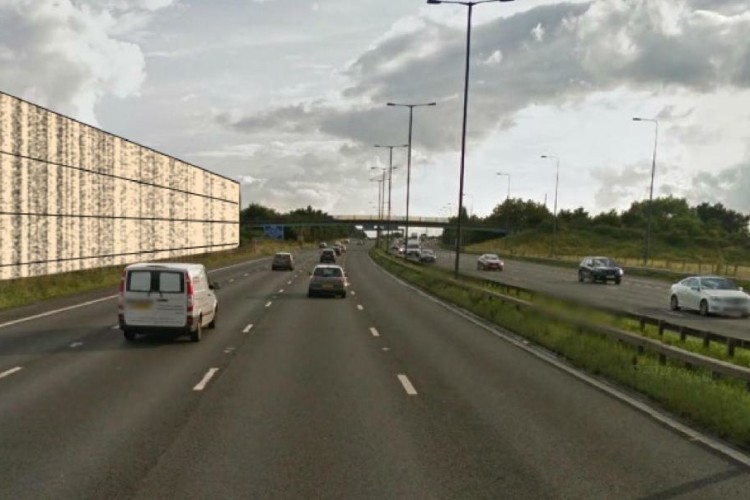 Construction began yesterday of two air quality barriers near junction 18 of the M62 near Simister, Greater Manchester, along which more than 142,000 vehicles drive every day.
The £2.5m scheme will build barriers on each side of the motorway by September, before a year-long trial to test their effectiveness in tackling harmful vehicle emissions will start.
The barriers, which have been trialled in other European countries, work by dispersing emissions and can act as an safeguard to communities near busy roads. The results of international studies so far show the barriers can reduce the level of oxides of nitrogen by up to 20% in some areas.
If successful, the barriers could shape the future design of other major road schemes where air pollution exceeds legal thresholds according to the Highways Agency. Senior project manager Jacqui Allen said: "We need to ensure that whilst government spending to improve England's road network is tripling to over £3 billion by 2021, it is vital we also look after our environment.


"This pilot will provide us with more evidence as to whether these barriers can be effective, and is just one part of our research to find new ways of dispersing harmful emissions."
Each wooden barrier will be 100m long and 4m high, increasing to 6m if needed. The barriers are supported by steel structures and positioned on either side of the motorway, in an offset position from each other, to the east of junction 18.
The equipment to monitor local air quality levels will be placed at either side of the barriers and behind, with the equipment behind stretching back to a distance of up to 200m. This allows for samples recorded at the different collection points to be analysed and compared.
Following the 12 study the results will be considered before any decision on future use of barriers is made.
Got a story? Email news@theconstructionindex.co.uk