The biggest event in the construction machinery calendar in the year ahead is Bauma 2019. It is the world's biggest capital goods trade fair, with more than half a million visitors expected during the week to see close to 3,500 exhibitors. The Munich showground covers 605,000 m2, which is roughly the size of a hundred football pitches.
No exhibitor spends more money on Bauma than Liebherr, whose Bavarian roots make Bauma home turf. The Liebherr stand covers an enormous area and its three-storey 14,000 m2 pavilion takes six months to build. And since the next Bauma is taking place from 8th-14th April 2019, Liebherr has already begun building its booth.
Liebherr has given us a sneak preview of one of the highlights that we can expect to see – its new Generation 8 crawler excavator series.
Six models in the range will be launched in the initial phase: designated R 922, R 924, R 926, R 930, R 934 and R 938, the first tranche of machines range from 22 to 45 tonnes operating weight and with an engine power range from 120kW (163hp) to 220kW (299hp).
The machines are made by Liebherr in Colmar, France, where the crawler excavator product range extends from 14 tonnes up to 100 tonnes. We can expect Generation 8 versions of other models in the range to follow on.
The first six are based on three different modular platforms, to give some commonality of structures and components to reduce manufacturing costs.
The new machines meet the EU Stage V emissions standard, which comes into force in 2019 and 2020 for non-road diesel engines.
Original equipment manufacturers (OEMs) will have 18 months to clear their inventory of older engines and a further six months to put Stage V compliant machines into the market. Smaller OEMs, making less than 100 machines a year, have an extra 12 months' leeway.
Liebherr's Stage V engines deliver almost 10% more power than the previous versions, as well as more traction force and more swing torque. There is no exhaust gas recirculation (EGR) valve but they have a diesel oxidation catalyst (DOC), a selective catalytic reduction (SCR) system and a particulate filter for reduced consumption and higher productivity. A standard heavy counterweight together with a higher bucket capacity, from 0.55m³ to 1.65m3, also allows greater efficiency on the construction site, says Martin Schickel, sales director of Liebherr-France.
Aside from the engines, other new features of the series include a hollow-formed piece at the top of the boom that reduces weight and, Liebherr says, improves the distribution of forces. 
The travel gear and track rollers on the undercarriage have been made maintenance-free by using a 'lifetime lubrication' concept. 
Where maintenance is still required, more can now be done at ground level: the fuel pre-filter, the fine fuel filter, the engine air filter and the housing for cab air filters are all accessible from the ground.

And there is a new lighting concept, with old halogen lights now replaced by LED technology. "This solution allows longer life, reduced electrical consumption and obviously a more powerful lighting," says Schickel. "This supports the overall performance of the machine as well as safety and comfort."
Inside the cab is a new seven-inch touchscreen display with more information displayed than before, such as levels of engine oil, hydraulic oil and fuel urea (diesel exhaust fluid). Machine movements are also now adjustable through the touchscreen.
Family fortunes lead to growth
Liebherr group turnover is set to top €10bn  (£8.8bn) in 2018 for the first time. Its growth was seriously checked by the global crash of 10 years ago. Group turnover grew from €1.6bn (£1.4bn) in 1988 to €3.1bn (£2.74) in 1998 and €8.4bn (£7.4bn) in 2008 – in other words, at least doubling every 10 years.
After the 2008/09 global crash, sales tumbled and it took a few years to get back on track, but Liebherr has seen revenue growth of 9% in 2017 and 8% this year. It has also reinvested more than €3bn (£2.65bn) back into the business over the past four years, primarily in factories and service facilities around the world.
As a privately-held family business, like our own JCB, Liebherr can afford to take the long view, and continues to do so.
And while the crawler excavators reach generation eight, the shareholder board is now controlled by generation three. Founder Hans Liebherr died in 1993, 25 years ago, leaving the company to his children – two of whom, Willi and Isolde Liebherr, remain on the board, along with six of Hans' grandchildren: Jan Liebherr, Stéfanie Wohlfarth, Sophie Albrecht, Patricia Rüf, Johanna Platt and Philipp Liebherr.
Jan, Sophie and Philipp are Willi's children; Stéfanie, Patricia and Johanna are Isolde's. All are in their thirties or early forties.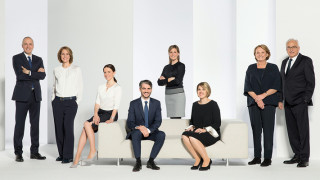 This article was first published in the November 2018 issue of The Construction Index magazine
UK readers can have their own copy of the magazine, in real paper, posted through their letterbox each month by taking out an annual subscription for just £50 a year. Click for details.
Got a story? Email news@theconstructionindex.co.uk