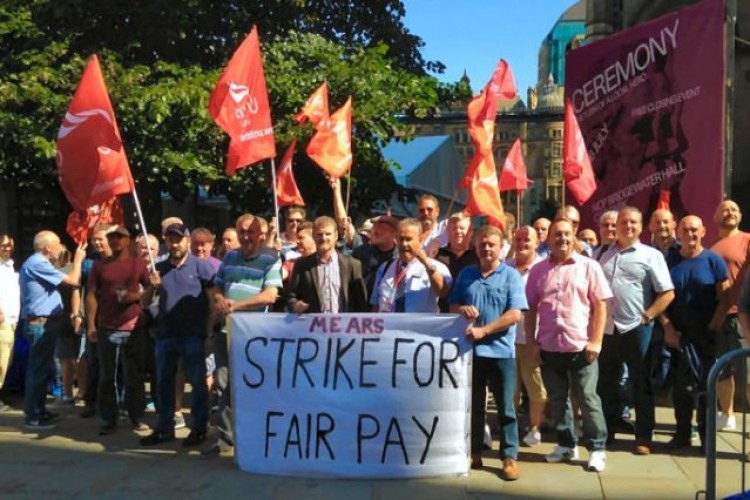 The strike action begins with a 48 hour stoppage on 16th November with the final wave of strikes ending on 9th February 2018. The new strike dates follow last month's announcement that the membership had voted overwhelmingly for fresh strike action.
The workforce has already taken 40 days of strike action this year in a dispute over pay differentials which results in the workers at Mears and Manchester Working (a joint venture company operated by Mears) being paid up to £3,500 less for the same work, they say.
The 180 workers undertake housing maintenance work on 12,000 properties managed by Northwards housing association, although the contract is tendered by Manchester City Council.
Mears says that the average pay among the Manchester workforce is almost £25,000, including call-out and overtime payments, with the highest earners receiving over £35,000. In June, after previous strikes, it offered a 10% increase in pay and 32 days leave per year. This was rejected.
However, Unite challenges some of the information put out by Mears. It says that 'only a handful of workers' are on £25,000 and most are paid £22,000 a year – pay differentials are at the heart of the dispute, it says.
Unite also says that Mears' 10% pay offer was conditional on an extra two hours a week, "therefore making it virtually worthless in real terms", the union said.

Unite also said that the ability to earn up to £35,000 only applies to a small number of Mears contracted engineers, rather than the ex-local authority workers who are involved in the dispute.
Unite regional co-ordinating officer Andy Fisher said: "Mears has again been given the opportunity to resolve this dispute following the overwhelming vote for strike action. Once again they have squandered this opportunity.
"Strike action is being taken as a last resort and will unfortunately inevitably result in widespread disruption to tenants of Northwards housing.
"The deliberate misinformation by Mears about what workers earn has only strengthened the resolve of the workforce to press ahead with the strikes. Our members know the truth about what they are actually paid."
Workers at Mears in Manchester and at Manchester Worker will undertake a series of 48 hour strikes on the following dates: 13, 16, 20, 23 and 27 November; 4, 7, 11, 14, 18, 21, 28 December; 4, 8, 11, 15, 18, 22, 25, 29 January; and 1, 5 and 8 February.
The same workforce will also take part in 24 hour strikes on 30 November, 1 December and 2 January.
Got a story? Email news@theconstructionindex.co.uk