Bloomberg's European HQ, designed by Foster+Partners with building services by Sweco, has scored 98.5% in the Building Research Establishment environmental assessment method (BREEAM) rating.
This makes it the world's highest BREEAM-rated office building to date.
Sweco was appointed by Bloomberg in 2010 to provide building services consultancy, including fire engineering and vertical transportation, for the Foster+Partners project.
The £1bn building opens later this month, having been built by Sir Robert McAlpine for the US financial media company. It has taken more than five years to build and topped out more than two years ago.
Bloomberg founder Michael Bloomberg said: "We believe that environmentally-friendly practices are as good for business as they are for the planet. From day one, we set out to push the boundaries of sustainable office design – and to create a place that excites and inspires our employees. The two missions went hand-in-hand, and I hope we've set a new standard for what an office environment can be."
Located between the Bank of England and St Paul's Cathedral, the Bloomberg buiding occupies a 3.2-acre site and provide 1.1 million square feet of office space. Open floor plates are connected by a spiral ramp that spans seven floors of the nine-story building. Wide enough for three people to walk alongside each other, it is designed to connect employees and encourage passing interactions as they travel between floors.
Architect Norman Foster said: "In some of our first discussions on the project, Mike Bloomberg and I arrived at a 'meeting of minds' on how the design of the new Bloomberg headquarters should incorporate the highest standards of sustainability. The project evolved from thereon into a building that is one of the most sustainable in the world. The deep plan interior spaces are naturally ventilated through a 'breathing' façade while a top lit atrium edged with a spiralling ramp at the heart of the building ensures a connected, healthy and creative environment."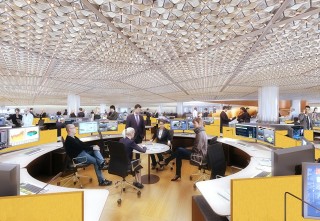 Bespoke integrated ceiling panels combine heating, cooling, lighting and acoustic functions in a petal-leaf design. The system, which incorporates 500,000 LED lights, uses 40% less energy than a typical fluorescent office lighting system, it is claimed.

When ambient weather conditions are temperate, the building's bronze blades can open and close, allowing the building to operate in a 'breathable' natural ventilation mode. Reducing dependency on mechanical ventilation and cooling equipment significantly reduces energy consumption.
A water-saving vacuum drainage system will contribute to a 73% saving in water consumption and a smart airflow system, which distributes air according to the occupancy of the building, is expected to save 600-750 MWhr of power per year.
The vacuum drainage system will recycle the building's greywater from basins and showers, eliminating the use of mains water for toilet flushing. Overall, the building's water conservation systems are expected to save 25 million litres of water each year.
The smart airflow system will reduce carbon emissions by approximately 300 tonnes a year by using CO2 sensors to adjust airflow in the building in response to occupancy.
Sweco UK design director Trevor Farnfield said: "Few commercial developments truly earn the title of 'landmark building', but Bloomberg's European HQ is an exception – setting a new precedent for sustainable design. This was a long-term, challenging project to which we have brought international best practice from across the Sweco group to deliver an innovative approach to building services."
He added: "The project has already attracted significant attention from the international design community, making it a landmark reference project not only for Bloomberg but also the City of London."
Sweco also designed the building's on-site combined heat and power (CHP) generation centre, which is expected to save 500-750 tonnes of CO2 per year, with the waste heat being used within the building.
Micharel Bloomberg said: "I wanted to create a unique, sustainable building where our 4,000 London employees would come to work every morning inspired to connect, collaborate and innovate. I believe in openness. This building takes that to a new level – there's nothing like it in the world."
Got a story? Email news@theconstructionindex.co.uk