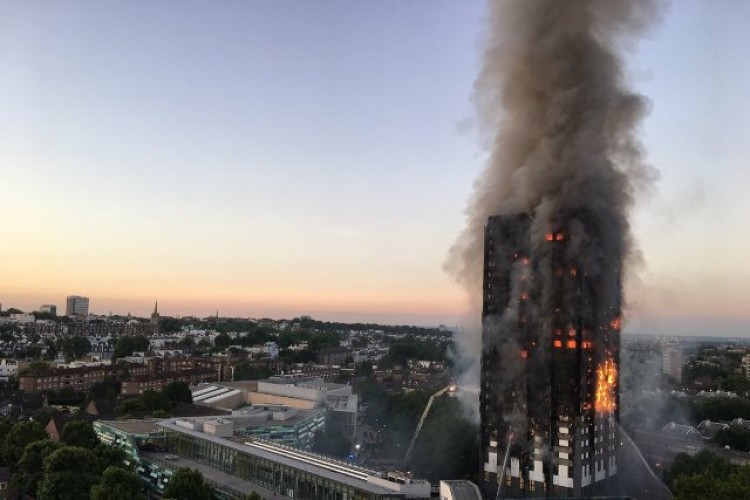 Tests have shown that a glazed fire door inside Grenfell Tower could resist fire for only 15 minutes, instead of the 30 minutes it is believed to have been designed for.
Independent experts have advised the Ministry of Housing that the risks to public safety remain low but further tests have been commissioned.
Current investigations are focused on doors produced by a single manufacturer that is no longer trading.
According to the BBC, Manse Masterdor made Grenfell Tower's fire doors, which were installed in 2011 and 2012.
Housing secretary Sajid Javid told the House of Commons that the issue was discovered by the Metropolitan Police investigation into the fire that killed 71 people in June 2017.
"Initial inspections indicate the door is believed to have been designed to resist fire for up to 30 minutes. But, when tested by the Metropolitan Police, it failed after approximately 15 minutes," he said.
"The Metropolitan Police considered that this test result might have wider implications for public safety and alerted my department. The government immediately sought advice from the independent expert panel to test the findings to see whether any action was required as a result."
He added: "There is no evidence that this is a systemic issue. Data between 2009 and 2017 shows that fire does not generally spread beyond the room of origin."
Dame Judith Hackitt, who is is undertaking an independent review of building regulations and fire safety, has been briefed on the latest findings.

Further investigations will involve materials analysis and subjecting additional fire doors from the same batch and others to BS476-22 fire resistance tests. The manufacturer's supply records will also be investigated.
The Ministry of Housing, Communities & Local Government has promised an update at the end of April.
Mr Javid said:  "Public safety is paramount. Government has consulted a range of independent experts and they have advised that the risks to public safety remain low. I have made it clear that the necessary tests and assessments must be carried out thoroughly, but at pace."
Roy Wilsher, chair of the National Fire Chiefs Council, said: "Risks to public safety are very low, and the evidence does not suggest that this has changed. We are confident the government are taking the right steps to provide additional reassurance, through rigorous testing and seeking independent and technical expertise. Our advice has not changed. In the event of a fire, people should continue to follow existing fire procedures for their property."
Sir Ken Knight, chair of the government's independent expert panel, added: "The government has taken the responsible step of consulting with experts, including the expert panel. The risk to public safety remains low and there is currently nothing to suggest this is a widespread issue. We will clearly monitor developments and advise the government of whether further advice is required."
Iain McIlwee, chief executive of the British Woodworking Federation (BWF), said: "It is concerning to hear about the door at Grenfell, but sadly it is not a surprise."
BWF has been campaigning to raise awareness on the importance of fire doors "to draw attention to the legacy of neglect".
Iain McIlwee said: "Too many people don't give fire doors a second thought, and forget that their real job is to provide a barrier to fire, prevent it spreading throughout a building and keep escape and access routes clear. The fire door is a system of components that all must be tested and work together to prevent failure. Getting just one small detail wrong can have an enormous impact. We regularly see fire doors that have been compromised by the use of uncertificated, incompatible and non-fire-resistant components, poor fitting and inadequate maintenance, and of course if a fire door is wedged open it's no use whatsoever. It is vital the door is installed by competent people and there is full traceability of the products so that those who hold legal and moral responsibility for managing fire safety can ensure specification is not broken, and the doors can be managed properly to remain safe throughout their life span."
Got a story? Email news@theconstructionindex.co.uk