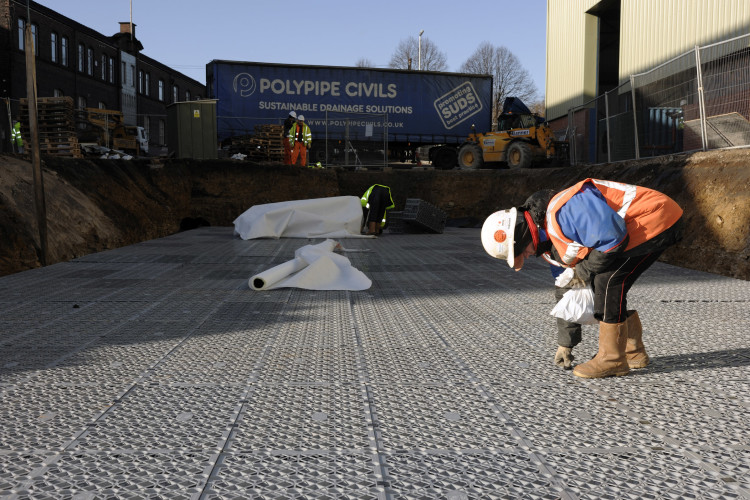 65 delegates were welcomed at the Civic Centre in Newcastle city centre for the free one-day CPD event which provided up to date guidance and advice on a range of drivers affecting SUDS and water management best practice in the UK. 
Delegates from within the public sector, local government, consulting practices and contractors were also presented with technical guidance for the design, planning and installation for below-ground SUDS systems including modular cell soakaway and attenuation solutions, water treatment filters and permeable paving systems. 
SUDS legislation was a key topic covered during the seminar to reflect changes taking place within the industry in response to the Floods and Water Management Act and Water Framework Directive. This was balanced with practical design guidance to help engineers, consultants and developers utilise the most appropriate sustainable drainage solution. 

The authoritative, independent speaker line-up included;
Don Ward, Chairman, Constructing Excellence, debating the current state of the 'construction sector supply chain'
David Schofield, Associate Director of Arup offering guidance on 'managing surface water with proprietary sustainable drainage'
Glyn Hyett, Managing Director of 3P Technik UK who introduced 'an emerging technology for improving water quality'
Steve Wilson, Technical Director of EPG focussing on the 'structural design of modular geocellular drainage tanks'
Professor Richard Ashley from the University of Sheffield, who sparked lively debate surrounding 'the impact of the Floods and Water Management Act on local authorities, designers and engineers'
Phil Tomlinson, SUDS Manager for Aggregate Industries who rounded-up the day by examining 'engineered SUDS solutions'.
"This was our 4th SUDS: Planning for Change event and we have been delighted with the feedback we've received from the delegates following each seminar," comments Dr. Jason Shingleton, Marketing and Development Director for Polypipe WMS. "We took the decision to respond to the confusion within the industry relating to sustainable drainage practice and have welcomed around 400 people within the industry to our events. 
"There remains a degree of uncertainty within the industry, particularly with regards to the Floods and Water Management Act which sees local authorities become responsible for the adoption and management of SUDS schemes. Our aim is to cut-through this confusion with an authoritative and independent event."
Got a story? Email news@theconstructionindex.co.uk