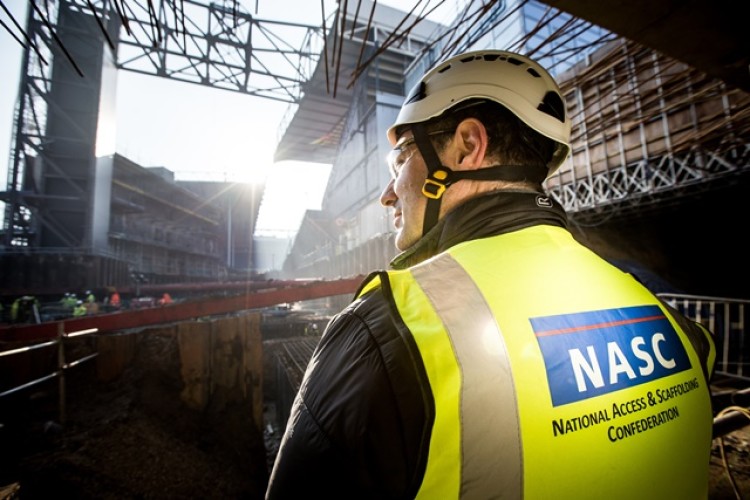 The latest safety report from the National Access & Scaffolding Confederation shows that its 229 member firms in 2016 had an accident frequency rate of 0.28 (accidents x1000 divided by number of operatives). This is down from 0.32 in 2015. In 2011 the incident rate was 0.53 and go back 20 years it was nearly 2.
There have been no fatal accidents among NASC member companies since 2012.
Between them, the 17,005 scaffolding operatives working for NASC member firms suffered 27 major injuries in 2016/17 and 69 injuries that kept them off work for more than a week. This compares to 33 major injuries and 63 seven-day injuries the previous year, when fewer than 15,000 operatives were engaged.

NASC president Alan Lilley said: "Once again, the NASC Annual Safety Report has highlighted how successful our members are at reducing accidents through compliance with industry safety standards and adherence to NASC guidance. No doubt, the release of SG4:15 Preventing Falls in Scaffolding Operations was a major factor in achieving this reduction in accidents. And the fact that there's been a marked reduction in the number of accidents – despite a record-level of NASC membership and a 14% increase in operatives – shows what we do for our members in producing quality safety and technical guidance.
"It's not all great news though. For the 12th consecutive year, slips, trips and falls were the major cause of accident and injury – representing a third of all reported injuries. And although there was a marginal reduction in incidents from 2015, this still represents a major issue for the scaffolding industry and is something we will investigate."
NASC full contracting members are required to submit a completed annual accident return as a requirement of membership, and the NASC Safety Report is based on data generated by this exercise. The 24-page report can be read online at issuu.com/nationalaccess/docs/nasc_safety_report_2017_web
Got a story? Email news@theconstructionindex.co.uk