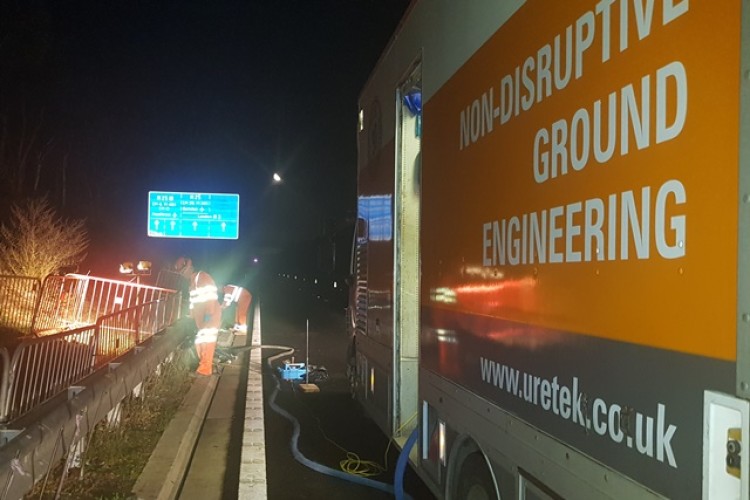 Uretek is injecting geopolymer around and above laid pipes from ground level downwards to stabilise the ground.
Balfour Beatty Infrastructure Services is converting the M3 to smart motorway between junctions 2 and 4a for Highways England, installing overhead gantries and traffic control technology, and converting the hard shoulder into an additional running lane.
Uretek's contract is being undertaken at nights to minimise disruption, and will see some 102 linear metres of soil treated over a period of four weeks.
The treatment involves two rows of injections of geopolymer material – one from either side of the installed pipe to ensure full coverage. Treatment depth varies across the area from 1.35 metres to 2.6 metres below ground level, depending on the depth of the pipe.
Uretek managing director Richard Holmes said: "This project is an excellent showcase for the versatility of Uretek's geopolymer materials. Not only do we stabilise the soils, but we fill the expansive voiding surrounding sub-surface service lines, meaning future surface maintenance won't be compromised. The recyclable nature of the geopolymer being used is not only safe for the environment, but is safe for removal, should access to the void be required in the future."
Got a story? Email news@theconstructionindex.co.uk