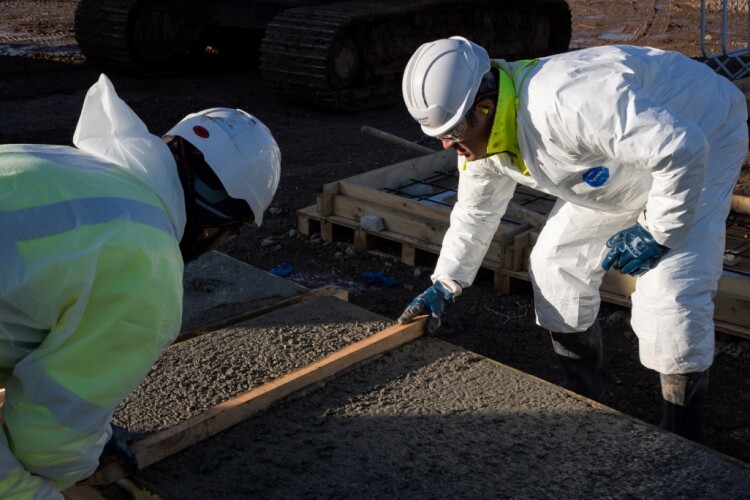 The £282m project in the Midlands is trialling the use of low carbon concrete and basalt fibre reinforcement on a temporary haul road for construction vehicles.
The trial, led by Skanska, in partnership with the National Composites Centre and funded by National Highways, compares traditional steel reinforced concrete with a low carbon concrete reinforced with basalt fibre.
Tarmac supplied two types of concrete for the trial: a mix comprising conventional blended cementitious material and a low carbon alternative mix incorporating an alkali activated cementitious material (AACM) in place of the cement.
Robert Gossling, head of commercial engineering at Tarmac, said: "Tarmac has developed new low carbon concrete technology and this trial is a great opportunity to collaborate with industry leading project partners to test its performance through an ideal, real-life application.
"Manufactured at a conventional concrete plant located close to the project and installed in exactly the same way as traditional materials, this new sustainable product delivers a carbon footprint up to 80% lower than a standard CEM I concrete. We hope this demonstration will help to accelerate the development of innovative low carbon materials."
The basalt fibre reinforcement was supplied by Basalt Technologies, whose director Malcolm Newton explains: "Basalt is a lightweight composite material consuming 62% less CO2e than steel during its manufacture. It comprises a non-metallic inert material that does not corrode, making it more durable than steel. Basalt Fibre reinforcement is also four to five times lighter than steel, making it safer to handle, fix and transport with fewer lorry movements."
The trial started in December 2021. Field and laboratory tests are continuing. Four reinforced concrete slabs were cast at the M42 Junction 6 site as part of a temporary haul road that will be heavily used by construction vehicles and will be monitored over the works duration. The slabs are made up of:
The team is now monitoring the slabs in-situ. Full scale test slabs have been sent to a specialist laboratory for bending and shear testing. All of the collected test results will build knowledge of the curing process, ease of construction, safety benefits, functional properties and structural behaviour of the various concrete and reinforcement combinations. This will provide insight into the future use of longer lasting materials in construction.
The trial is also expected to provide a better understanding of the impact of the use of these materials ahead of the proposed revision to Eurocode 2 standards that will include use of composites in the design of concrete structures. This is currently being developed.
Work on the M42 junction upgrade is set to be complete by 2025.
Skanska UK operations director (highways) Glennan Blackmore said: "With support and funding from customer National Highways, we have been able to bring together the knowledge, skills and innovative thinking from expert teams within Skanska, the National Composites Centre and supply chain partners Basalt Technologies and Tarmac to carry out this exciting trial. Through using a unique combination of materials, we are working to not only cut carbon, but also aiming to improve the structural performance of reinforced concrete and deliver better productivity, safety and cost outcomes.
"It's a great example of how by working collaboratively we can innovate to help tackle climate change, by working towards net-zero carbon solutions, and deliver long-term benefits for the industry. We are thrilled at the progress achieved to date and we are very excited to see the results. The combination of the low carbon concrete and the replacement of the steel with a lightweight composite reinforcement dramatically reduces the carbon footprint by more than 50%."
Got a story? Email news@theconstructionindex.co.uk