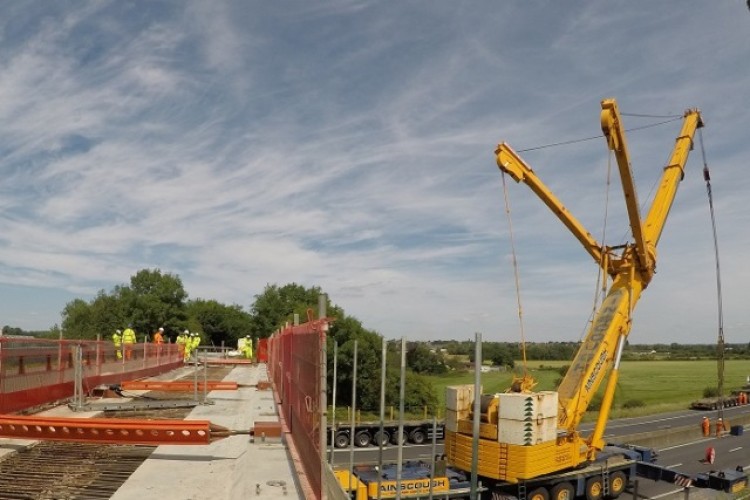 Moor Bridge, spanning the M180 south of Scunthorpe, had suffered damage to an outer beam that was considered beyond repair. It has now been demolished and a new bridge deck put in place using a 500-tonne capacity telescopic crane supplied by Ainscough.
The work was led by A-one+, a joint venture between CH2M, Colas and Costain, that has contracts with Highways England to look after Area 12 (Yorkshire & Humber) and Area 4 (Kent and East Sussex) of the strategic road network.
The M180 was closed in both directions over the weekend of 8th/9th July 2017 for the bridge replacement operation. The crane arrived on site at 4am and took four hours to rig with boom support system and 75 tonnes of counterweight.
Time lapse videos of the operations are shown below.
The long bridge edge beam was precast, measured 24.3 metres and arrived on site by low loader. Temporary edge protection was installed onto the beam while in situ on the loader with debris netting added to prevent fragments falling onto the carriage way during assembly and fit. In addition a temporary restraint unit was installed to be used when the unit was lifted into place to attach it to the remaining bridge deck.
Once the preparation work was completed, the 500 tonne crane lifted the 64 tonne precast bridge unit into place, swinging 90 degrees to lower it onto the pier.
Got a story? Email news@theconstructionindex.co.uk