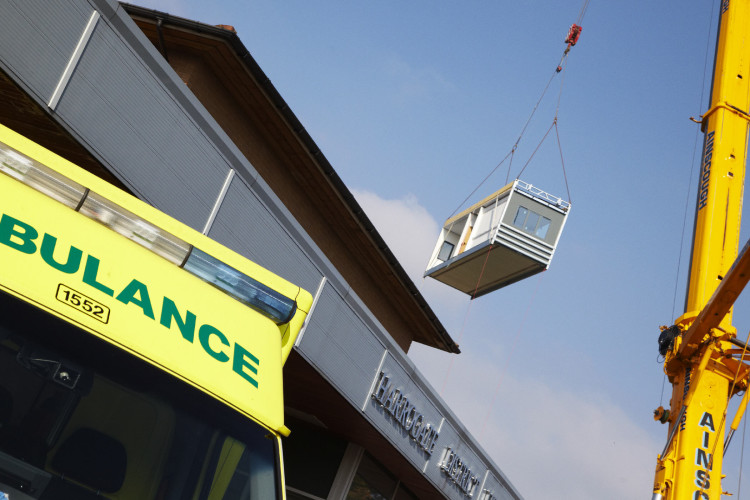 The ProCure21 project is Yorkon's fourth healthcare contract for main contractor Interserve Project Services.
Designed by AFL Architects, the project is part of a rationalisation of office accommodation across the hospital, and will provide offices for around 50 staff.  By constructing the new scheme on top of an existing traditionally-built two-storey building, the Trust can create a centralised hub for administration and help address the constraints of the site.
The use of off-site construction is minimising any disruption to the hospital during the building project, will significantly reduce the programme, and overcame the challenge of severely restricted access. 
Working over a weekend and using a 500-tonne crane, Yorkon installed the fully-fitted steel-framed modules in just two days without the need for decanting the building below. 
Commenting on the project, Bruce Knight, Capital Design Manager at Harrogate and District NHS Foundation Trust, said, "Throughout the process of planning the cranage, representatives from Yorkon worked closely with the Trust and the emergency services in order to formulate procedures and minimise the disruption which this scheme had the potential to cause. As a result of the close working with Yorkon, the craning of the modules went very smoothly and did not impact on the operation of hospital services over the weekend."
Shaun Paramor, Project Manager at Interserve Project Services, said, "Off-site construction allowed these offices to be fitted out off site in the factory, while the wards below were being refurbished.  This parallel-working will reduce the programme time and any disruption to the hospital before the busy winter period. The modules arrived on site very close to complete and were finished to a high standard."
He added, "We have an established working relationship with Yorkon and see them as a market leader in their field, and a Tier 1 supply chain partner to Interserve.  We are very pleased that the building installation phase went absolutely to plan and caused the least possible disruption to the hospital." 
The scheme is designed to achieve a BREEAM 'very good' rating to minimise impact on the environment, and will be brick-clad to blend in with other buildings on the hospital site.
The Harrogate District Hospital project follows Yorkon's completion with Interserve of the multi award-winning Emergency Assessment Unit at the University Hospital of North Tees, which was also built off site.
Got a story? Email news@theconstructionindex.co.uk