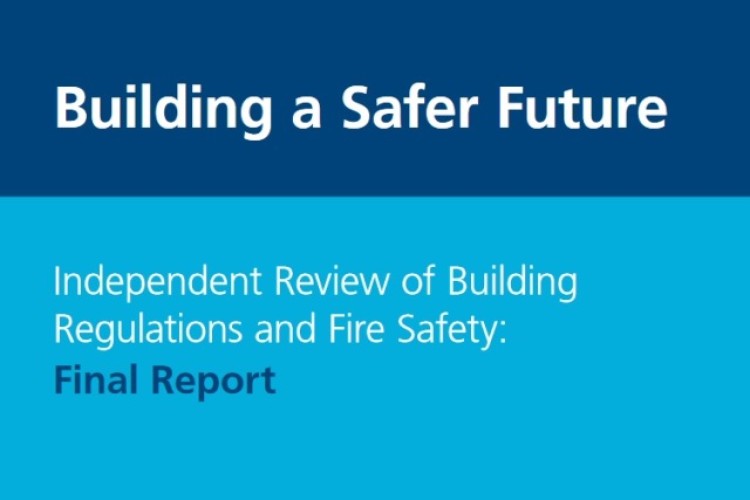 The Construction Industry Council (CIC), which is the forum for construction's professional institutions, met after publication of the Hackitt review of building regulations and fire safety1 to formulate a collective response.
While it has yet to formulate a position on Hackitt's recommendations, it has come out in favour of the government's response, which was to launch a consultation on banning the use of combustible materials in cladding systems on high-rise residential buildings. This was something that Dame Judith Hackitt specifically recommended against, arguing instead that outcome specifications were a better idea than government prohibiting specific methods and products.
CIC members at the post-Hackitt meeting said that consultation on bans should begin as soon as possible.  They also agreed that it would be appropriate for the industry itself to impose  a moratorium on the use of combustible materials in cladding systems on buildings over 18 metres, until there is a clear decision by the government  on the definition, classification, testing and use of combustible cladding & insulation materials for high-rise residential and other higher risk buildings.  
CIC chairman John Nolan said:  "I would be very surprised if anyone in the UK was specifying combustible ACM and insulation combinations on high-rise buildings since the Grenfell disaster. The combustibility of facades and their various components is an extremely complicated issue which needs detailed further investigation and guidance. I therefore welcome the secretary of state's initiative to clarify the situation regarding the combustibility of all materials in high-rise cladding systems."
CIC chief executive Graham Watts said: "It is essential that the government makes a decision based on the widest range of expertise across all dutyholders engaged in the design, construction and management of high-rise buildings.   This will take time and so the unanimous view of members at our conference was to allay public fears and show leadership by urging the professions – as a whole – not to specify combustible cladding systems on high-rise residential and other higher risk buildings while the consultation is ongoing."
CIC said that it will make a formal response to Hackitt's recommendations after two more meetings in June.

1. Independent Review of Building Regulations and Fire Safety: final report
See also:
Hackitt review calls for outcomes-based framework to promote safety
Government to consider product bans despite Hackitt advising against
Mixed reactions to Hackitt review
Hackitt recommendations face political headwinds
Got a story? Email news@theconstructionindex.co.uk